By Bahar Gidwani
Few things can be as ironic as the breakfast buffet at a sustainability conference. You'll see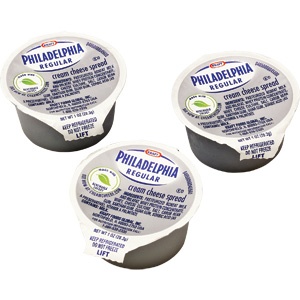 paper coffee cups, plastic forks, and too much food. If the organizers really cared about our welfare (and that of our planet), maybe they should cut down on the number of eggs, eliminate the heavily sugared pastries, and rethink that mound of fried bacon? How about also using some cloth napkins and china plates?
So, I suppose I wasn't that surprised when I saw the cream cheese for my bagel delivered in individually packaged little plastic "tub." Despite my principles, I didn't skip breakfast (I've unfortunately never been able to refuse a bagel and cream cheese!). I had the opportunity while sitting at my table and listening to the warm up orations, to examine my cream cheese package.
What I discovered was intriguing. The manufacture (Kraft Foods) prominently displayed an icon that looked like a "certification." It proudly announced that the cream cheese I was eating was "Low energy use" cream cheese and that if I wanted to know more about this, I should go to (I'm not kidding) www.creamcheese.com.
[csrhubwidget company="Kraft-Foods-Inc" size="650x100" hash="c9c0f7"]
What could I do but look? I could hear the Kraft people laughing quietly in the background and taunting me with that old schoolyard phrase, "Nyah Nyah, made you look!" Still, I couldn't resist knowing what was so "sustainable" about my breakfast.
Of course, you will probably now succumb to the same temptation, and I'm sure you'll find it interesting. Kraft is proud of the fact that it has found a number of ways to reduce the energy is uses to make cream cheese, use less water, and recycle more of the bits and pieces involved in the process. I'm proud too that they have made these changes—and I suppose it is a good sign that they are giving it prominent placement on their packaging.
However, I do object to one thing. I don't like the "simulated certification" aspect. The icon Kraft uses (a green leaf-shaped thing) looks too much like a real third-party certification from a legitimate organization like EnergyStar, EcoLabel, or FSC.
There is no easy way for consumers to check if an icon really means anything. The only tool I have to check the validity of a certification scheme is the list on www.bigroom.ca, and they don't have any app yet for matching icons. If a lot of products start to carry these self-awarded icons, it will confuse consumers and could undermine the credibility of years of serious certification work. Until we have some verification tools that ordinary consumers can use, I feel that consumer products companies should lay off the cute icons and rely on common schoolyard curiosity to make folks like me look more deeply into their sustainability work.
---
Bahar Gidwani is a Cofounder and CEO of CSRHub. Formerly, he was the CEO of New York-based Index Stock Imagery, Inc, from 1991 through its sale in 2006. He has built and run large technology-based businesses and has experience building a multi-million visitor Web site. Bahar holds a CFA, was a partner at Kidder, Peabody & Co., and worked at McKinsey & Co. Bahar has consulted to both large companies such as Citibank, GE, and Acxiom and a number of smaller software and Web-based companies. He has an MBA (Baker Scholar) from Harvard Business School and a BS in Astronomy and Physics (magna cum laude) from Amherst College. Bahar races sailboats, plays competitive bridge, and is based in New York City.
CSRHub provides access to corporate social responsibility and sustainability ratings and information on nearly 6,000 companies from 135 industries in 70 countries. By aggregating and normalizing the information from over 170 data sources, CSRHub has created a broad, consistent rating system and a searchable database that links millions of rating elements back to their source. Managers, researchers and activists use CSRHub to benchmark company performance, learn how stakeholders evaluate company CSR practices and seek ways to change the world.