By Carol Pierson Holding
After a year where wind producers sat on their hands, waiting until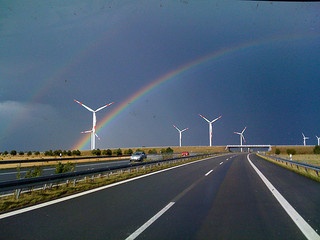 Congress decided whether the wind tax credits would be extended, it finally happened: on December 31, as part of the fiscal cliff deal, Congress extended the production tax credit (PTC) for wind and other renewables through the end of 2013.
But one year is not enough time to get a wind production facility up and running. There are plenty of wind operations — some 100 pre-operational wind projects in the Northwest alone — that are far enough through planning stages to break ground in time to qualify. But any longer-term projects are stalled because of the lack of predictability for tax credits. Wall Street can't invest with that much uncertainty. Even operating concerns cut back. In fact, this year's uncertainty caused turbine manufacturers including Siemens and Vestas to cut back in the middle of last year.
What galls Energy Policy Expert Fred Hewitt is that energy subsidies have been a fixture of American policy since the dawn of the fossil fuel era, and yet lawmakers refuse to make subsides for wind anywhere near permanent. Some eighty years ago, special treatment in the tax, accounting and business formation codes, from special depreciation and Federal resource leasing rules, was put in place to support building the electric power system. Similar subsidies were given to the nuclear industry fifty years ago in the form of legal shielding in case of accident. These special incentives still exist today.
And yet the renewable energy industry has to apply every one or two or five years to have their incentives renewed.
Wind has its negative impacts of course. Wind patterns are disturbed. Loud whirring interrupts the bucolic quiet. Birds are decimated if they fly into a turbine. All energy sources have their impacts. Only renewables are free from carbon emissions.
Fossil fuel lobbyists argue that wind is not reliable and has yet to prove its financial viability. But wind is no longer an energy source that has to prove itself. It's a bonafide industry, drawing in investments of $15.5 billion a year with 500 companies currently competing in the US alone. Small wind turbines are being installed in factory locations to protect manufacturers from energy shortages and price fluctuations. And because utilities have requirements to source additional energy from emission-free sources, future demand is assured. See 90 of these companies' CSR ratings on CSRHub.
Still, how will this new industry go up against the might of its competitors, fossil fuel companies determined to slow its progress?
Despite its drawbacks, the PTC extension is not all doom. The fact that it passed at all amidst the chaos of the fiscal cliff is remarkable. While wind champions are generally pro-environmental Democrats, support was bi-partisan. Central state Republicans like members of the Red State Renewable Alliance supported the measure on behalf of rural constituencies for whom wind development is an economic Godsend. As Hewitt puts it, "This is an important political signal."
Still, the PTC will continue to be problem until it is extended for multiple years. The industry has come up with a compromise: through the American Wind Energy Association, the industry has offered a voluntary proposal to Congress to phase out Production Tax Credits over six years. Why six years? Because that's how long it will take for wind to establish a stable base market in the U.S. and to invest in new innovations such as off-shore wind power.
Hewitt describes the kicker: they want all energy industries to do the same, phasing out special treatment of any kind. Over the same six years.
Many agree. The Environmental Defense Fund is quietly stirring support for getting all energy industry players agree to phase out subsidies, a goal that Obama touted in his State of the Union Address and which the G20 agreed to do for fossil fuels at their meeting last September.
How fitting that the wind industry, the youngest player and the one that really needs the subsidies, is the first to volunteer to give them up. Could it be that renewables are not only the most conservative environmentally but fiscally too? You have to love the irony.
[csrhubwidget company="Vestas-Wind-Systems" size="650x100" hash="c9c0f7"]
Photo is courtesy of vauvau via Flickr CC.
Carol Pierson Holding writes on environmental issues and social responsibility for policy and news publications, including the Carnegie Council's Policy Innovations, Harvard Business Review, San Francisco Chronicle, India Time, The Huffington Post and many other web sites. Her articles on corporate social responsibility can be found on CSRHub.com, a website that provides sustainability ratings data on 6,700 companies worldwide. Carol holds degrees from Smith College and Harvard University.


CSRHub provides access to corporate social responsibility and sustainability ratings and information on over 6,700 companies from 135 industries in 82 countries. By aggregating and normalizing the information from 200 data sources, CSRHub has created a broad, consistent rating system and a searchable database that links millions of rating elements back to their source. Managers, researchers and activists use CSRHub to benchmark company performance, learn how stakeholders evaluate company CSR practices and seek ways to change the world.