By Bahar Gidwani
It seems to be my fate to explain corporate social responsibility (CSR) to all of my friends (and to a number of strangers!). I suspect that my eyes sometimes glaze with messianic fervor and that some of my listeners start looking for the nearest exit.
The most frequent question I get when I pause for breath is "Who is interested in CSR?" Of course, I have my own favorite answer ("EVERYONE!"), but I thought I'd offer a little more concrete data.
Our friends at CR Magazine run one of the bigger and broadest CSR events each year—Commit!Forum. They recently put out a multi-page document to solicit sponsors for the 2013 Commit!Forum. (Yes, they try to make money, running these things!) As part of proving the case for why a company should spend up to $332,633 (the price for a "Platinum" marketing package) to be part of the event, CR offered some stats on who showed up in 2012.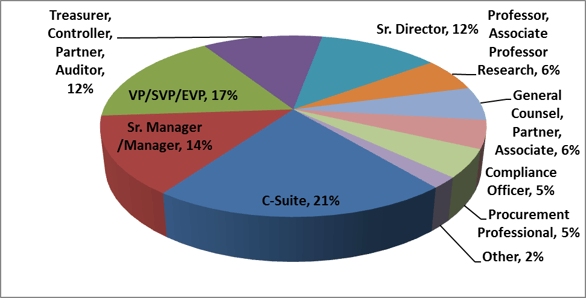 This data seems to suggest that the C-Suite (the biggest slice) above is heavily engaged in sustainability. Attendance rose 8% in 2012 over 2011, despite a slow economy.
CR also offered some data on the industries that were represented.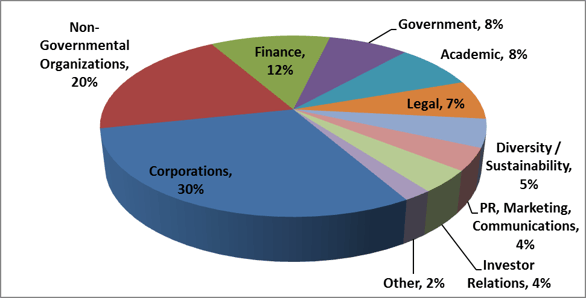 I thought it was interesting to see that corporate managers, lawyers and PR types were mingling and interacting with NGOs, government employees, and academics. I've participated in Commit!Forum for the past few years as both a sponsor and via panels and seminars. A lot of companies are making a serious effort to improve their performance and meetings such as these illustrate this.
If you have other examples of the "demographics" of our industry, please point them out to me. We've done our own research (which we'll share in the next post) and it comes to a similar conclusion. A broad swath of organizations and industries is interested in sustainability. You now have even more facts with which to bore your friends, and any strangers unlucky enough to have to listen to you!
---
Bahar Gidwani is a Cofounder and CEO of CSRHub. Formerly, he was the CEO of New York-based Index Stock Imagery, Inc, from 1991 through its sale in 2006. He has built and run large technology-based businesses and has experience building a multi-million visitor Web site. Bahar holds a CFA, was a partner at Kidder, Peabody & Co., and worked at McKinsey & Co. Bahar has consulted to both large companies such as Citibank, GE, and Acxiom and a number of smaller software and Web-based companies. He has an MBA (Baker Scholar) from Harvard Business School and a BS in Astronomy and Physics (magna cum laude) from Amherst College. Bahar races sailboats, plays competitive bridge, and is based in New York City.
CSRHub provides access to corporate social responsibility and sustainability ratings and information on nearly 7,000 companies from 135 industries in 82 countries. Managers, researchers and activists use CSRHub to benchmark company performance, learn how stakeholders evaluate company CSR practices and seek ways to change the world.
CSRHub rates 12 indicators of employee, environment, community and governance performance and flags many special issues. We offer subscribers immediate access to millions of detailed data points from our 200 data sources. Our data comes from six socially responsible investing firms, well-known indexes, publications, "best of" or "worst of" lists, NGOs, crowd sources and government agencies. By aggregating and normalizing the information from these sources, CSRHub has created a broad, consistent rating system and a searchable database that links each rating point back to its source.