By Bahar Gidwani
CSRHub recently extended the historic data available to its subscribers back to 2008. Our users can now study the month to month change in sustainability performance for thousands of companies from December 2008 to the present.
We current rate 7,200 companies, using data drawn from more than 200 sources. Our data set has been growing steadily at about 100 new companies rated per month.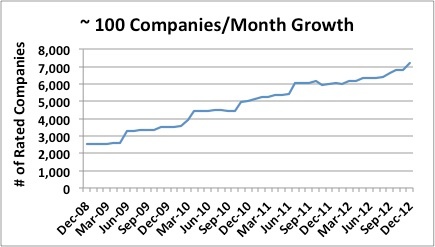 We use the wide range of data types and perspectives our sources give us to adjust and normalize our data. We used normalization factors based on our robust 2010 to 2012 data sets to adjust the more limited data sets we had for 2008 and 2009. As a result, our ratings have remained remarkably stable.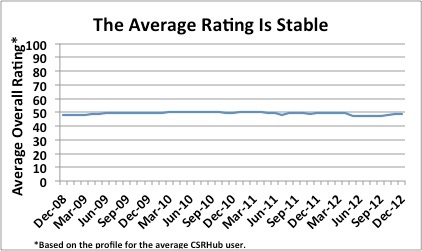 Any registered CSRHub user can see a chart that shows the corporate social responsibility (CSR) performance of the companies we track, since 2008. In many cases, the chart will show partial ratings for a number of months, and a gradual build towards a full rating. The consequence of a CSR problem can often be tracked visually. For instance, see these charts for BP following the Gulf Oil spill and the effects on Tepco's ratings of the Fukishima meltdown.

The Deepwater Horizon oil spill occurred in April of 2010. By October, all of BP's ratings had begun to fall. The worst damage occurred in its Community category score—which fell from the low 60s to the low 40s. BP's overall score stabilized in the middle 50s by early 2011 and has remained in that area since then.

Japan was struck by a major tsunami on March 11, 2011. Tepco's Fukishima reactor became a worldwide center of attention in the weeks that followed. Tepco's environmental score took an immediate hit, followed by drops in its governance and employee scores as more details emerged of how the company had handled the event. A number of governance changes in late 2011 and 2012 have brought that score now to a new high.
CSRHub professional level subscribers can "roll back" our system to any month in the period. They can see which sources were available for each company in the system at any point in time. They can also do historic benchmarks and analysis of long-term trends in corporate social responsibility (CSR) performance.
Several university researchers have already launched studies, using this newly expanded data set. We expect their work to reveal many insights that we can share with you, as they become available.
---
Bahar Gidwani is a Cofounder and CEO of CSRHub. Formerly, he was the CEO of New York-based Index Stock Imagery, Inc, from 1991 through its sale in 2006. He has built and run large technology-based businesses and has experience building a multi-million visitor Web site. Bahar holds a CFA, was a partner at Kidder, Peabody & Co., and worked at McKinsey & Co. Bahar has consulted to both large companies such as Citibank, GE, and Acxiom and a number of smaller software and Web-based companies. He has an MBA (Baker Scholar) from Harvard Business School and a BS in Astronomy and Physics (magna cum laude) from Amherst College. Bahar races sailboats, plays competitive bridge, and is based in New York City.
CSRHub provides access to corporate social responsibility and sustainability ratings and information on 7,000+ companies from 135 industries in 91 countries. Managers, researchers and activists use CSRHub to benchmark company performance, learn how stakeholders evaluate company CSR practices and seek ways to change the world.