By Bahar Gidwani, in collaboration with Marcus Fergusson of Investis
Is a company that has a strong corporate social responsibility (CSR) reputation more likely to be a better user of digital media? Are its web sites and other digital communications more useful and have better content? We might expect a connection between sustainability performance and the communication of a company's CSR program. But is there also a broader connection that demonstrates that a company that has a sophisticated digital communications strategy and strong CSR/sustainability programs will have necessarily incorporated communication of their CSR program into their communications strategy?
We compared CSRHub data on perceived CSR performance for 14,441 companies and Investis data on the digital communications performance of 937 companies. We found we could explain 39% of the variation in digital communications quality for 845 overlapping companies. We found that good policies on employee compensation, employee training/health/safety, energy and climate change, and on environment policy were correlated with better digital communications performance. On the other hand, strong human rights and supply chain strategies and resource management programs seemed to be connected to weaker digital communications performance.
These results are consistent with data CSRHub has collected on the correlation between sustainability performance and brand strength or reputational risk. Certain sustainability programs seem to be well understood and accepted by consumers, suppliers, employees and other stakeholders who learn about them. Other programs are not as well understood and may not directly contribute to success in these areas—although they may help with things such as reducing credit costs.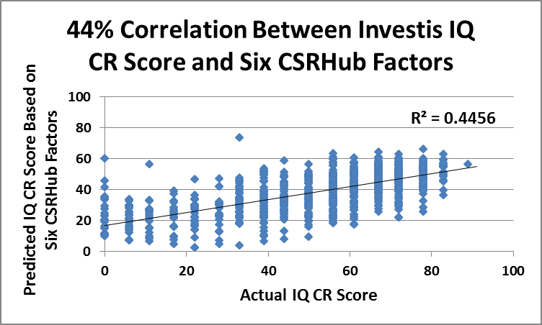 To see the complete details of this new research by CSRHub and Investis, download the report here.
About the Authors
By Bahar Gidwani, in collaboration with Marcus Fergusson of Investis.
Bahar Gidwani is CEO and Co-founder of CSRHub. He has built and run large technology-based businesses for many years. Bahar holds a CFA, worked on Wall Street with Kidder, Peabody, and with McKinsey & Co. Bahar has consulted to a number of major companies and currently serves on the board of several software and Web companies. He has an MBA from Harvard Business School and an undergraduate degree in physics and astronomy. Bahar is a member of the SASB Advisory Board. He plays bridge, races sailboats, and is based in New York City. Marcus Fergusson is the Research Director at Investis. He runs a 20-strong team of business analysts, conducting and publishing research on global digital trends in corporate communications and benchmarking the corporate digital performance of the world's leading publicly listed companies. He previously worked for Demos, Britain's leading cross-party think tank, and in ethical brand strategy. He has a BA in Modern History from the University of Oxford.
About CSRHub
CSRHub provides access to the world's largest corporate social responsibility and sustainability ratings and information. It covers over 14,000 companies from 135 industries in 127 countries. By aggregating and normalizing the information from 380 data sources, CSRHub has created a broad, consistent rating system and a searchable database that links millions of rating elements back to their source. Managers, researchers and activists use CSRHub to benchmark company performance, learn how stakeholders evaluate company CSR practices, and seek ways to improve corporate sustainability performance.
About Investis
Investis is an international digital corporate communications and investor relations company, which works with approximately 2,000 clients from offices in five countries. The companies it serves include more than 70% of the constituents of the FTSE 100 and more than 150 US clients. Founded in 2000, Investis helps clients manage their corporate communications and investor relations through corporate websites, IR webhosting, social media, apps & mobile, video and webcasting, website tools and online reporting.