By Bahar Gidwani
Part 1 of a 2-part series
Sustainability professionals spend hundreds of thousands of dollars and months of time developing and managing their sustainability programs. Most dread the almost inevitable question from their manager or their manager's manager—"How are we performing relative to our peers? Where are we doing well and where do we need to improve?" The iCompli CSRHub ESG Metrics Brief is designed to make it easy to answer these questions in a fact-based and authoritative way.
Why has it been hard to get answers?
Sustainability managers know their own programs—and understand the data they generate and report. However, hundreds of outside sources each form their own opinions on a company's sustainability performance. They use different criteria and come to different conclusions—and both their analysis methods and their viewpoints are not always readily available.
For instance, is Wal-Mart more socially responsible than Target? The barriers to answering this question include:
Too much information – CSRHub contains 131 sources of sustainability information for Wal-Mart and 118 sources for Target.
Gaps in the data - 85 of the above data sources rate both company, but many sources are unique to only one of the two companies.
Broad range of comparable companies – CSRHub tracks 274 retail companies worldwide. To fairly compare Wal-Mart and Target, one needs to put them into context against all of these other competitors.
Our new solution required combining two components
CSRHub's database system maps, merges, and normalizes sustainability ratings from 425 sources. It includes information from Wall Street firms such as Thomson, MSCI, EIRIS, and Trucost; data from non-governmental organizations such as CDP, GRI, Transparency.org and the UN Global Compact, and information from government databases, publications, and various types of certification and crowd sources. By combining almost 80 million pieces of data, CSRHub can generate objective scores of the perceived sustainability performance for more than 15,000 companies in 132 countries.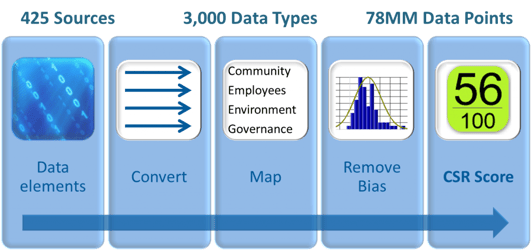 The end result shows that Target is generally more sustainable than Wal-Mart—although Wal-Mart is seen has having better performance on environmental issues.

This perception perspective helps identify where a particular company is weak or strong. But, most corporate managers need to also see comparable sets of facts and figures, before they can invest in new projects or change their strategy. The new ESG Metrics Brief combines CSRHub's insights with the hard facts contained in Bloomberg's well-respected ESG (Environment Social Governance) Database.
Bloomberg tracks data on more than 30,000 publicly-traded companies, from around the world. Its data set includes information not only hundreds of data items its own staff gathers from public sources and company filings but also data from other major ESG sources such as Sustainalytics and ISS. The result is a set of comprehensive reports on 6,969 companies in 77 countries.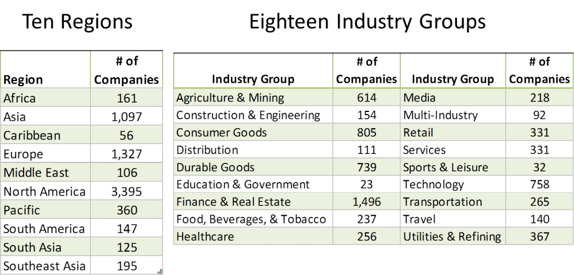 Look for part 2 of this series to see a concrete example of the kinds of information—and opportunities for action—that the new ESG Metrics Brief's create.
To see more now, including a full sample, go to www.csrhub.com/content/icompli-csrhub-esg-metrics-brief/.

---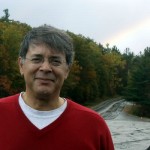 Bahar Gidwani is CEO and Co-founder of CSRHub. He has built and run large technology-based businesses for many years. Bahar holds a CFA, worked on Wall Street with Kidder, Peabody, and with McKinsey & Co. Bahar has consulted to a number of major companies and currently serves on the board of several software and Web companies. He has an MBA from Harvard Business School and an undergraduate degree in physics and astronomy. He plays bridge, races sailboats, and is based in New York City.
CSRHub provides access to the world's largest corporate social responsibility and sustainability ratings and information. It covers over 15,000 companies from 135 industries in 132 countries. By aggregating and normalizing the information from 400 data sources, CSRHub has created a broad, consistent rating system and a searchable database that links millions of rating elements back to their source. Managers, researchers and activists use CSRHub to benchmark company performance, learn how stakeholders evaluate company CSR practices, and seek ways to improve corporate sustainability performance.