By Bahar Gidwani
Part 2 of a 2-part series
The first part of this post described the reasons iCompli and CSRHub decided to create the new ESG Metrics Brief report. We thought it might be helpful to provide a concrete example of the kinds of information—and opportunities for action—that these reports create.
At number 8 on the 2014 Fortune list, Ford is a well-studied, multinational with a long history of interest in sustainability. Ford has reported to the GRI since 2007, to CDP since 2006, and has won many awards and recognitions. CSRHub has 139 different sources of information on Ford and 22,501 different ratings points. Ford's overall CSRHub rating of 60 puts it at the 71% percentile among the 118 motor vehicle manufacturers that CSRHub tracks.
The overview
The first chart in Ford's ESG Metrics Brief provides a visual representation of this relative performance:
While overall performance is well above average, it is clear that of the four major categories of sustainability performance that CSRHub tracks, Ford is strongest in "employees" and weakest in "governance."
The ESG Metrics Brief has access to CSRHub's eight years of ratings history and a similar range of history from Bloomberg. This chart shows how Ford's CSRHub rating has changed over this time period.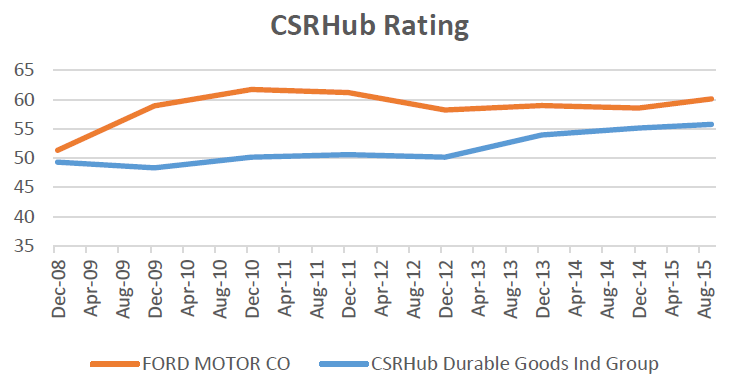 The ESG Metrics Brief next brings in other ESG sources from Bloomberg's system. Here is the relative performance for Ford as seen by ISS and by CDP.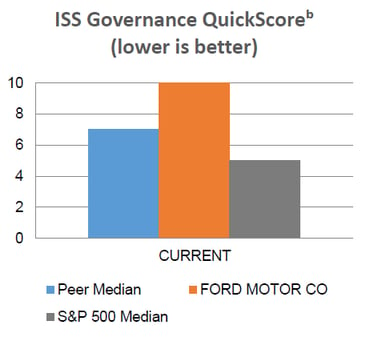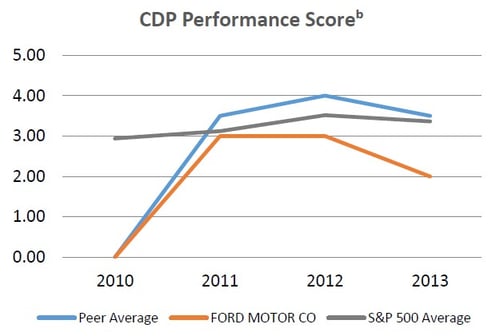 Drilling down
After a user has reviewed the overall situation for a company, he or she can "drill down" into each of the four main categories that CSRHub covers. For instance, here is the change over time for Ford's governance rating, compared to those of its peers.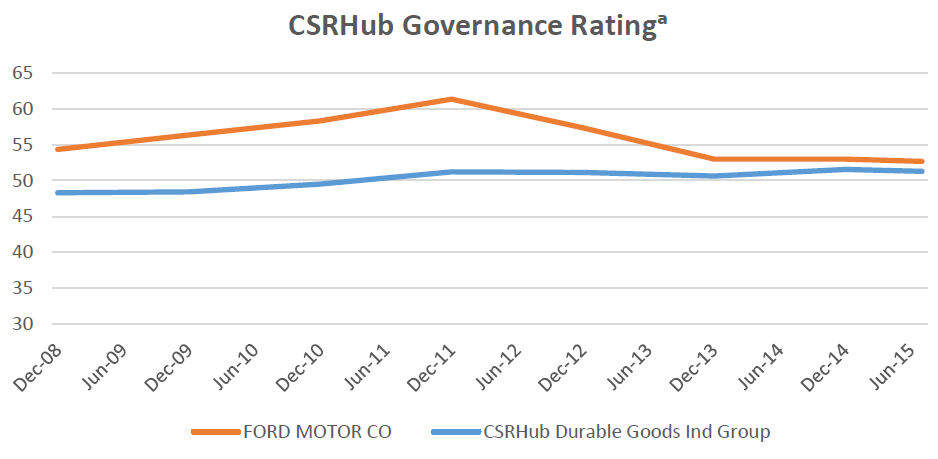 The above chart uses CSRHub ratings. Other sources and metrics drawn from Bloomberg help further explain Ford's loss of competitive advantage compared to its peers in this area. One factor may be a reduction in the amount and quality of Ford's disclosures.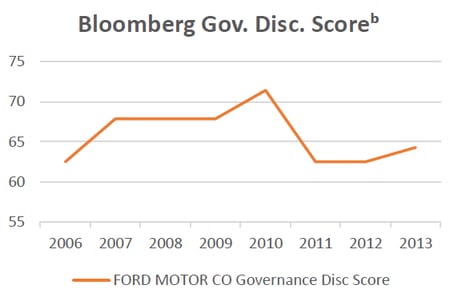 A second factor could be the perception that Ford's CEO compensation is out of line with that of its peers.
Bloomberg tracks a wide array of metrics and policies that give users of the ESG Metrics Brief even more insight into this part of Ford's sustainability behavior.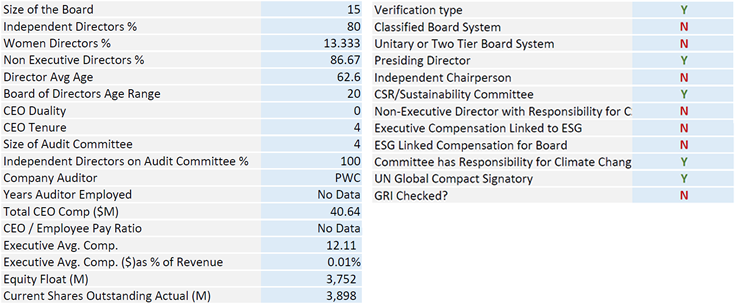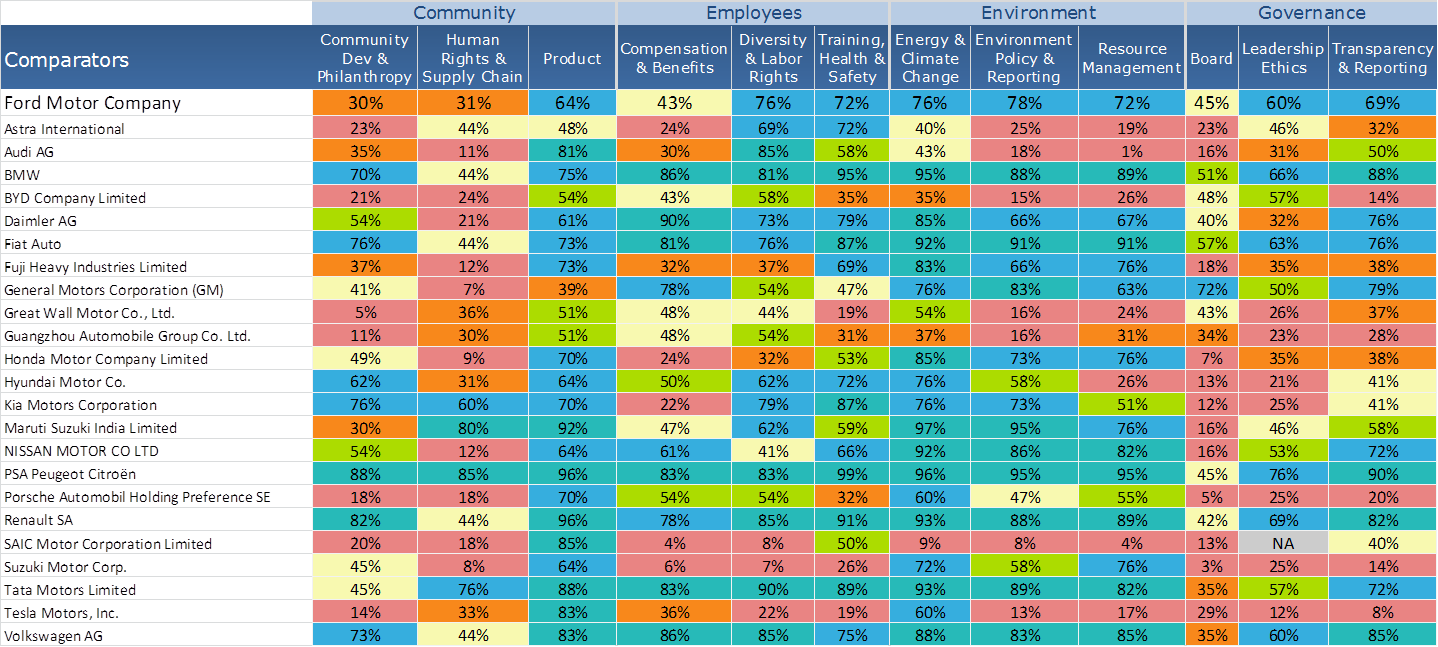 The bottom line
We believe that an ESG Metrics Brief will be a good starting point for those who want to understand one company's sustainability performance.
The report is easy to obtain. It takes three business days or less to generate each report.
The report is inexpensive. Each report costs only $495—much less than the time and energy required for most researchers to generate something comparable, and far less than the cost to license the datasets.
The report is broad and comprehensive. You get data on more than 120 indicators across all areas of sustainability. Each report normally compares against between 10 and 30 peers.
The report helps inform the stakeholders in a sustainability strategy process. You can share the report internally and help prove your case for new programs, further investments, and shifts in strategy.
We have more data than we can ever fit into any single report! We look forward to getting feedback from our users about the ESG Metrics Brief and continuing to fine-tune it to meet their needs.
See more now, including a full sample, at http://www.csrhub.com/content/icompli-csrhub-esg-metrics-brief/.
---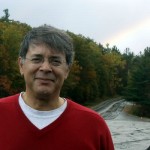 Bahar Gidwani is CEO and Co-founder of CSRHub. He has built and run large technology-based businesses for many years. Bahar holds a CFA, worked on Wall Street with Kidder, Peabody, and with McKinsey & Co. Bahar has consulted to a number of major companies and currently serves on the board of several software and Web companies. He has an MBA from Harvard Business School and an undergraduate degree in physics and astronomy. He plays bridge, races sailboats, and is based in New York City.
CSRHub provides access to the world's largest corporate social responsibility and sustainability ratings and information. It covers over 15,000 companies from 135 industries in 132 countries. By aggregating and normalizing the information from 400 data sources, CSRHub has created a broad, consistent rating system and a searchable database that links millions of rating elements back to their source. Managers, researchers and activists use CSRHub to benchmark company performance, learn how stakeholders evaluate company CSR practices, and seek ways to improve corporate sustainability performance.