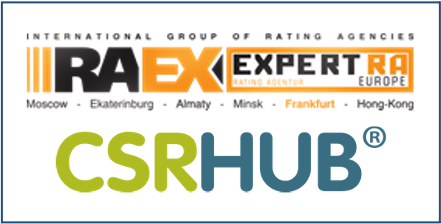 The Russian Federation has a huge influence on world events. It is a powerhouse in many natural resources industries and has strong tech and manufacturing businesses.
However, very little information has been available on the sustainability performance of Russian companies. Some of the country's largest entities are privately or government controlled. Those that are publicly traded have not yet been forced to disclose much data on their ESG (Environment, Social, and Governance) performance by Russian regulators. While Russian citizens appear to have interest in these issues, they are not supported yet by media and have not been allowed to create mass groups such as the Green parties of Europe.
CSRHub has tried to gather data on Russian companies for years. While we currently show data on 378 Russian entities, we are able to provide ratings on only 99. Only 48 of these (including Russia's own government bodies) have full ratings.
We recently learned of an effort by Rating-Agentur Expert RA GmbH (known as RAEX-Europe) to fill in this gap. RAEX-Europe is registered by ESMA (European Securities and Markets Authority) and received ECAI status (External Credit Assessment Institution) in 2015. RAEX Group has operated for over 20 years in field of ratings, rankings and analytics. It has now begun systematically assessing major Russian organizations. Even though there are some companies taking long strides towards improving ESG policy preparation, reporting and performance; there is still a lack of granular and objective evaluation on ESG risk exposure and mitigation of these companies. What is more, besides the top companies in the country, there is no evaluation on smaller entities, which makes it hard to make them accountable. This is where RAEX-Europe comes in to reduce this information asymmetry currently existing in the Russian market.
We recently examined 66 Russian entity ratings from RAEX-Europe and compared them with CSRHub's data set. CSRHub had complete ratings on only 33 of these entities. A simple correlation between RAEX-Europe's New ESG Score and CSRHub's Overall Rating shows that about 15% of RAEX-Europe's rating is included in CSRHub's estimate of consensus ESG performance.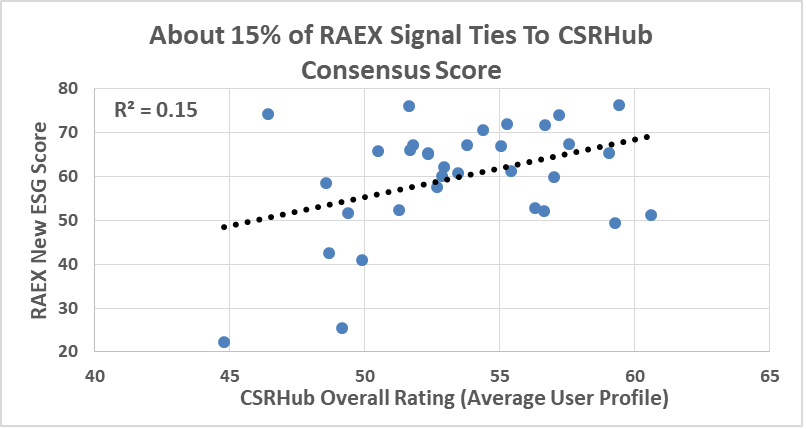 CSRHub has compared its consensus ratings to the "signals" of almost all of the major sources of ESG ratings. The correlation ranges from as little as 10% to as much as 50%. Sources with high correlations are generally those who are tracking larger well-known companies and who rely on publicly-available information. Those with low correlations have special methodologies or are studying less-known entities. It seems RAEX-Europe falls into the latter category and that its data set may offer fresh insights into how Russian companies are performing.
RAEX-Europe is rapidly growing the list of companies it covers and has already reached the 100 company mark. We will be adding RAEX-Europe ratings to CSRHub soon. If you want to invest in Russian companies or need to study or benchmark a Russian entity, you may want to dig into the details of RAEX-Europe's data set.
---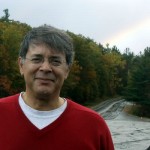 Bahar Gidwani is CEO and Co-founder of CSRHub. He has built and run large technology-based businesses for many years. Bahar holds a CFA, worked on Wall Street with Kidder, Peabody, and with McKinsey & Co. Bahar has consulted to a number of major companies and currently serves on the board of several software and Web companies. He has an MBA from Harvard Business School and an undergraduate degree in physics and astronomy. He plays bridge, races sailboats, and is based in New York City.
About CSRHub
CSRHub offers one of the world's broadest and most consistent set of Environment, Social, and Governance (ESG) ratings, covering 18,000 companies. Its Big Data algorithm combines millions of data points on ESG performance from hundreds of sources, including leading ESG analyst raters, to produce consensus scores on all aspects of corporate social responsibility and sustainability. CSRHub ratings can be used to drive corporate, investor and consumer decisions. For more information, visit www.CSRHub.com. CSRHub is a B Corporation.