CSRHub recently shared fresh insights into how to more effectively use ESG Data. Bloomberg sponsored the webinar and many of those attending were Bloomberg terminal users. CSRHub also invited members of its community to hear how to get more out of ESG Data.
We have made the presentation slides used during the webinar available for you to download and use as a reference.
You may request the webinar replay here.
CSRHub recently launched an application called ESGHub on the Bloomberg terminal (APPS ESGH <GO>). The app combines CSRHub data with Bloomberg's ESG Metrics to create a new tool for examining portfolios and other large sets of investment instruments. The webinar attempted to show why this type of tool is needed and how the tool may help better integrate ESG data into the business processes of those who have a Bloomberg terminal.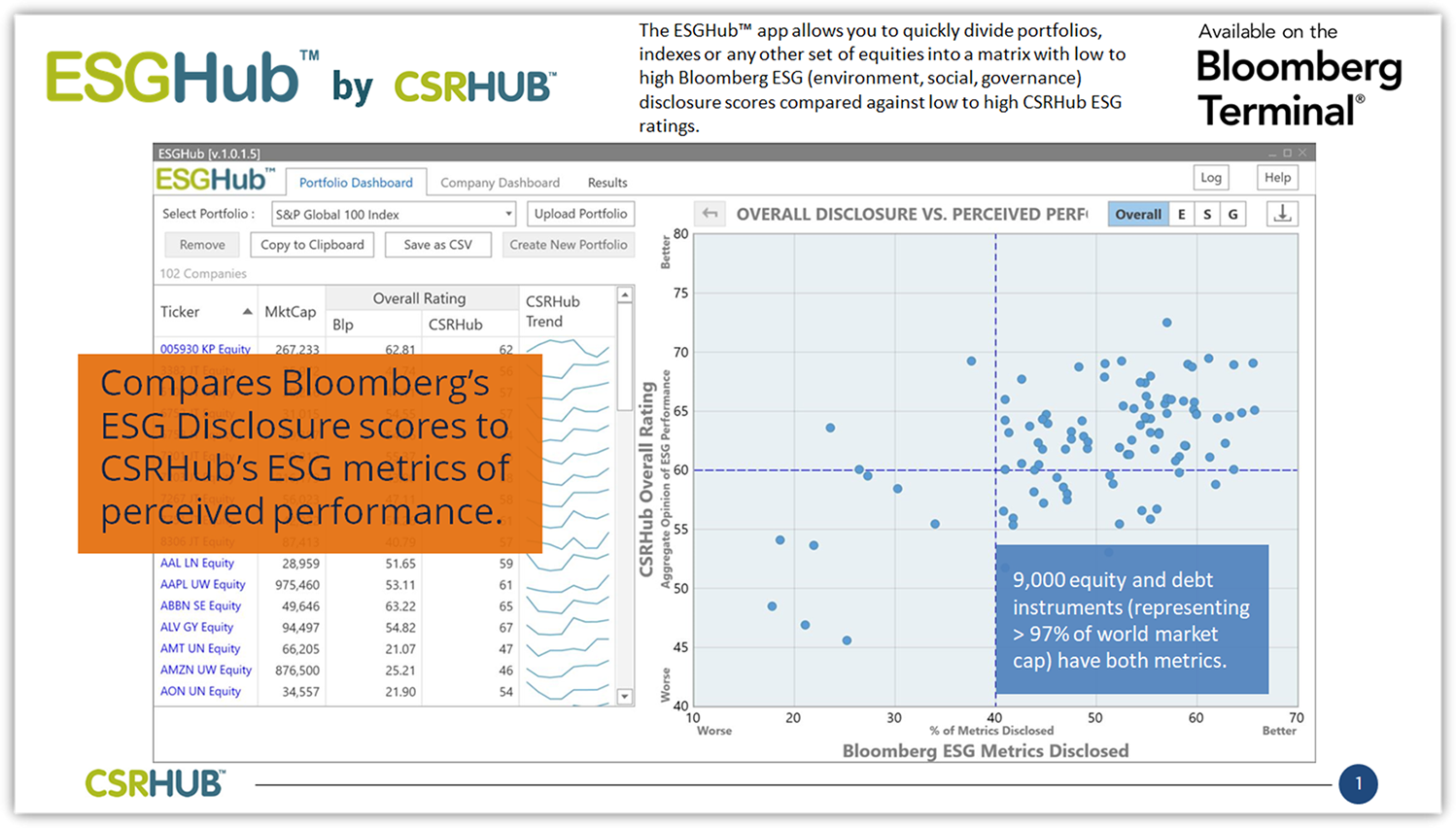 Bloomberg's ESG Metrics is one of the largest sources of company self-reported ESG data. Bloomberg collects information on 900 indicators from about 10,000 companies. Other ESG sources use human analysts to generate company ESG ratings. We showed webinar attendees that company self-reported and analyst-generated ratings tend to be inconsistent and confusing.
Patrick Drum, a senior portolio manager from Saturna Fund, shared his process for selecting instruments for his Sustainable Bond fund. He reviews a number of specific company-reported items and integrates input from several human analyst rating sources. His slides showed how hard it was to get consistent company-reported data. He also illustrated the range of views that human analysts had on the three instruments he wanted to evaluate.
We then showed how CSRHub's ESG data aggregation normalization process improves the correlation between both self-reported and human analyst data sets. We discussed the overall distribution of CSRHub's consensus ESG ratings and showed CSRHub's big data processing system can bring into focus the data for a particular company.
The ESGHub app (a ten day free trial is available on the Bloomberg terminal at "APPS ESGH <GO>") brings together Bloomberg and CSRHub data into an easier to understand and use format. Two thirds of those who attended indicated that they were encouraged now to make more use of ESG data.
The audience asked a number of interesting questions:
Q: Can ESGHub be used to screen green or gender bonds?
A: Yes, if the issuer has shared data on its sustainability programs. ESGHub combines data from Bloomberg and CSRHub. It can only screen an issuer if there is data available from both of these sources.
Q: How is CSRHub's approach to generating a consensus score different from simply averaging a number of ESG ratings?
A: CSRHub scores are a better estimate of consensus than any single or simple average. The webinar slides gave good examples of the focus and clarity that CSRHub's Big Data system produces. There is also information on the CSRHub web site about its proprietary aggregation, mapping, and normalization process.
Q: What strategies for engaging companies about ESG deficiencies could come from using ESGHub?
A: A company that is low on disclosure (has a poor Bloomberg ESG Metrics score) but that is well-regarded for its sustainability performance (has a good CSRHub rating), should disclose more. One who has the opposite problem needs to improve its internal ESG programs. ESGHub users should be able to both offer useful advice to companies and illustrate their advice by making ESGHub charts that compare a company to its peers.
Q: Would ESGHub cover companies that other ratings sources don't?
A: During the webinar, Patrick offered an example of three instruments he considered for his fund. It was encouraging to see that all three had CSRHub ratings. Because CSRHub aggregates so many different sources, it should generally have more ratings than any other ESG data source.
---

Bahar Gidwani has built and run large technology-based businesses for many years. Bahar holds a CFA (Chartered Financial Analyst) and was one of the first people to receive the FSA (Fundamentals of Sustainability Accounting) designation from SASB. Bahar worked on Wall Street with Kidder, Peabody, and with McKinsey & Co. He has founded several technology-based companies and is a co-founder of CSRHub, the world's broadest source of corporate social responsibility information. He has an MBA from Harvard Business School and an undergraduate degree in physics and astronomy. He plays bridge, races sailboats, and is based in New York City.
CSRHub is the largest ESG and sustainability rating and information platform globally. We aggregate 180M data points from 550+ data sources including 12 leading ESG analyst databases. Our patented algorithm aggregates, normalizes, and weights data to rate 18,000 companies in 132 countries across 136 industries. We track 97% of world market capitalization. We cover 12 subcategories of ratings and rankings across the categories of environment, employees, community and governance. We show underlying data sources that contribute to each subcategory's ratings. CSRHub metrics are a consensus view (any 2 sources may have about a 30% correlation so we make sense of the disparate data). We tag companies for their involvement in 17 Special Issues. We provide Macro-enabled Excel dashboard templates, customizable dashboards, and an API. Our big data technology enables 85% full coverage of data across our rated companies and robust analyses. We provide historical ratings back to 2008.