Part 2 of a 2-part series.
In 2008 CSRHub began measuring performance in corporate social responsibility (CSR). Using ten years of history, we are now starting to answer questions such as:
Has CSR performance improved over time?
What area of CSR is improving the most?
Is the universe of companies for which ratings are available expanding beyond the large public corporations?
How strong is the alignment between CSR performance and company CSR reporting on CSR?
More Data on More Companies
A dramatic increase in ratings sources beyond Wall Street-driven and research companies has expanded the field of companies for which ratings can be developed. For example, the number of companies and other entities studied by CSRHub has increased from 2,000 in 2008 to 18,000 in 2018. In 2008, the major sources of data were the analyst research houses which covered only large public companies. While this data produces rich consistent opinion matrices and remains a vital component of the CSRHub system, other crowd sources, not-for-profit groups, publications, and government regulators helped expand the covered universe to include smaller companies, not-for-profit organizations, and government entities.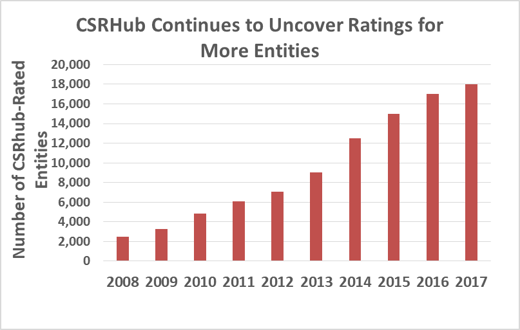 Still a Disconnect Between Reporting and Performance
One of the reasons we developed CSRHub was because we felt there was a disconnect between reporting (what companies said about themselves) and performance (what companies actually do). We could not find a way to pierce the veil and determine performance directly. This is why we created a proxy based on the aggregate opinion of how a company is performing on ESG (environment, social, governance) issues, from a wide range of expert sources. Our scores build a feedback loop so that companies can see how their performance and reporting are perceived. We hope they will use this feedback to improve both the truth about their corporate social behavior and what they tell their stakeholders about themselves.
We recently launched a new tool in partnership with Bloomberg that illustrates clearly that reporting and performance are still only loosely related. The chart below shows for the S&P 100 a measure of disclosure (the horizontal axis is the percent of Bloomberg's 900 sustainability indicators that have been captured for each company) against a measure of perceived sustainability performance (CSRHub's overall rating). The correlation between these measures is only 28%. This indicates that there must be other "explanatory variables" that drive how a company's ESG performance is perceived, besides the extent of its sustainability disclosures.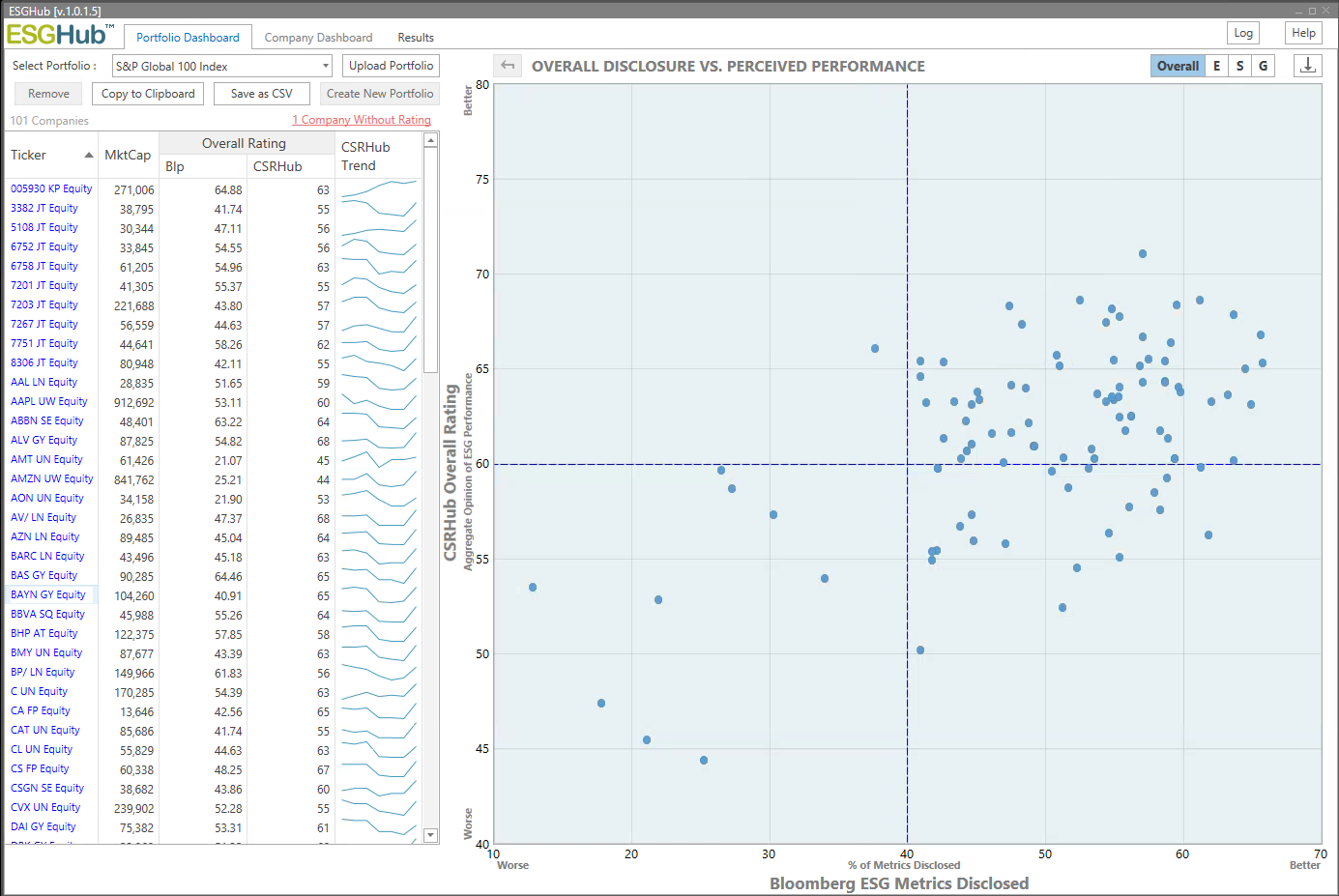 Looking Ahead at CSR Trends
We don't expect to see many major new analyst-driven sources of ESG data emerge. It is expensive and time-consuming to use human analysts to review and weigh a company's sustainability performance. We've seen new data sets that are driven by news reports, tweets, or other bottoms up evidence. These sets are interesting, but we have not seen much correlation between them and the many other sources we review. There are many new sources of data coming from not-for-profit groups—especially those who have focused on supply chain issues. We also expect government-regulation-driven disclosures to expose more small and mid-size companies—especially in Europe and parts of Asia.
Our big data-driven system seems to be working well and producing useful insights into the relative sustainability performance of thousands of companies. We plan to continue growing our coverage and tying the signals from our data to tools that can be used by companies, analysts, activists and researchers around the world.
With the exception of the still-broad gap between disclosure and performance metrics, CSR has moved forward over the last ten years. CSRHub will continue to track the change in emphasis on core issues and incorporate new data sets as they emerge. What gets measured – and reported – is what gets implemented. We'll keep working to help keep CSR moving forward for the next ten years.
---

Bahar Gidwani has built and run large technology-based businesses for many years. Bahar holds a CFA (Chartered Financial Analyst) and was one of the first people to receive the FSA (Fundamentals of Sustainability Accounting) designation from SASB. Bahar worked on Wall Street with Kidder, Peabody, and with McKinsey & Co. He has founded several technology-based companies and is a co-founder of CSRHub, the world's broadest source of corporate social responsibility information. He has an MBA from Harvard Business School and an undergraduate degree in physics and astronomy. He plays bridge, races sailboats, and is based in New York City.
CSRHub is the largest ESG and sustainability rating and information platform globally. We aggregate 180M data points from 550+ data sources including 12 leading ESG analyst databases. Our patented algorithm aggregates, normalizes, and weights data to rate 18,000 companies in 132 countries across 136 industries. We track 97% of world market capitalization. We cover 12 subcategories of ratings and rankings across the categories of environment, employees, community and governance. We show underlying data sources that contribute to each subcategory's ratings. CSRHub metrics are a consensus view (any 2 sources may have about a 30% correlation so we make sense of the disparate data). We tag companies for their involvement in 17 Special Issues. We provide Macro-enabled Excel dashboard templates, customizable dashboards, and an API. Our big data technology enables 85% full coverage of data across our rated companies and robust analyses. We provide historical ratings back to 2008.