We recently reviewed the ESG coverage status for the 8,686 companies in the MSCI ACWI (All Country World Index). The ACWI is a popular benchmark for many investors, because it includes approximately 85% of the global opportunities for equity investment. We felt it would be useful to see how much ESG information is currently available on the companies on this type of broad index.
CSRHub aggregates ESG data from more than 600 sources. Each source has a different coverage universe. By combining these universes, we have been able to offer full or partial ratings on 18,000 companies and know that there is at least some information on another 13,000 companies.
As you can see from the table below, we have reached the point where there is CSRHub ESG data on 95% of the companies and 99% of the "weighted value" in the Index. 5,777 companies (81% of the index weight) have full CSRHub scores (overall rating and scores for Community, Employees, Environment, and Governance factors). Another 1,116 companies (13%) have partial scores while 1,324 companies (15%) have some data, but not enough yet to allow calculation of a CSRHub rating.

We do not have data on the past components for this Index. However, we can look at the status for the current companies over the past five years. (CSRHub data reaches back to 2008.) As you can see below, there has been a dramatic improvement in the number of companies with ESG data over this time period.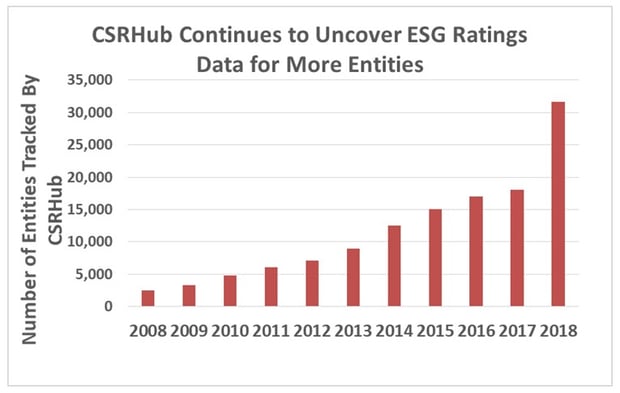 One benefit of this increase in coverage is that ESG ratings can now be extended to cover corporate bond and high-yield debt portfolios. In a recent study of one such portfolio, we found full or partial ESG ratings in CSRHub on 1,681 of 1,789 holdings—94% coverage. It remains difficult to put ESG scores on sovereign and municipal bond issues. However, we have ratings now on many universities, cities, and states. We may also be able to impute a rating for a locality, based on the ratings of the companies that are headquartered there.
One of the excuses made for not integrating ESG information into corporate or investor decision-making has been that there are too many gaps in ESG data. It appears that the hard work of ESG sources around the world are gradually filling in these gaps so that we can create a consistent and holistic view of relative ESG performance for a wide range of entities.
---

Bahar Gidwani is CTO and Co-founder of CSRHub. Bahar has built and run large technology-based businesses for many years. Bahar holds a CFA (Chartered Financial Analyst) and was one of the first people to receive the FSA (Fundamentals of Sustainability Accounting) designation from SASB. Bahar worked on Wall Street with Kidder, Peabody, and with McKinsey & Co. He has founded several technology-based companies and is a co-founder of CSRHub, the world's broadest source of corporate social responsibility information. He has an MBA from Harvard Business School and an undergraduate degree in physics and astronomy. He plays bridge, races sailboats, and is based in New York City.
CSRHub is the largest ESG and sustainability rating and information platform globally. We aggregate data points from data sources including leading ESG analyst databases. Our patented algorithm aggregates, normalizes, and weights data to rate 18,000 companies in countries across industries. We track 97% of world market capitalization. We cover 12 subcategories of ratings and rankings across the categories of environment, employees, community and governance. We show underlying data sources that contribute to each subcategory's ratings. CSRHub metrics are a consensus view (any 2 sources may have about a 30% correlation so we make sense of the disparate data). We tag companies for their involvement in 17 Special Issues. We provide Macro-enabled Excel dashboard templates, customizable dashboards, and an API. Our big data technology enables 85% full coverage of data across our rated companies and robust analyses. We provide historical ratings back to 2008.