Donald Trump's picks for his cabinet and advisors created a climate denier's dream team, and their promises to renege on the Paris Climate Agreement and dismantle the Department of Energy and the Environmental Protection Agency are firing up the global Green movement big time.
Trump's rejection of the Paris Agreement has generated "an unprecedented sense of solidarity among all the (signatory) countries," says Alden Meyer, director of strategy and policy for the Union of Concerned Scientists. He believes that Trump has ceded climate leadership to China. Surely high levels of smog in Northern China help too: Beijing started the year in its third day of a smog alert, delaying flights and closing highways. On New Year's Day, 25 cities in Northern China issued (even higher) "red alerts" for smog, closing factories, schools and construction sites.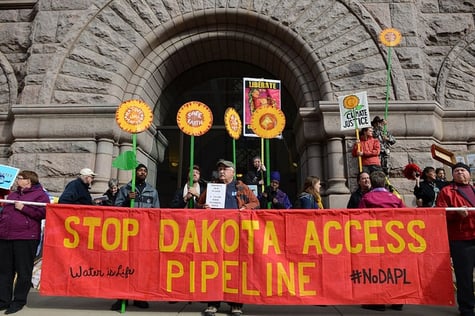 Green heroes are emerging everywhere. One example is the unlikely conversion of Portland's Mayor, Charles Hale, once nicknamed "Fossil Fuel Charlie" for supporting a $500 million propane export facility proposed by the Pembina Pipeline Corporation, the largest pipeline in the Canadian tar sands and the largest business proposal in Portland history. Hale gave up his reelection campaign to push for projects including "the first stone in a green wall across the West Coast" — a zoning ordinance that effectively bans all new fossil-fuel-export infrastructure within the city's limits, including the Pembina pipeline, and prevents expansion of existing facilities. On December 14, he got his wish, when the Portland city council voted unanimously for the ordinance.
Hale's conversion came after a sustained campaign of relentless protests and public action. As his spokesperson Dana Haynes explained, "Public sentiment is very, very strongly against it, wildly against this thing. The mayor called Pembina in Calgary and said: 'You're walking into the chopper blades here. I was willing to support you last fall, but you've lost my support.'"
And these protests were even before Trump was elected.
Now, chopper blades, where personal stakes meet collective action, are everywhere. In December, Nevada's Public Utilities Commission (PUC) voted to restore favorable rates to solar companies after a year of fee increases and a phase-out of credits for excess energy customers sent back to the grid. The reversal was supported by huge turnouts at the PUC hearings that included those whose power costs have gone up and those who suffered when major solar companies, including SolarCity and Sunrun, left the state as solar applications dropped from 1386 to 18 a month. Personal stakes are high. Hearing turnout is high. Chopper blades.
Best known are demonstrations in North Dakota, where Native Tribes and environmentalists staged a protest thousands strong at Standing Rock, the Sioux Tribe's sacred land that was threatened by Dakota Access Pipeline, or DAPL. When the protestors change their designation from climate justice Water Protectors, focusing as much on potential contamination of the Missouri River as on land rights and ancient burial grounds, the action drew affected farmers and renewed support from leaders like environmentalist Bill McKibben and journalist Amy Goodman.
While that movement may have succeeded only temporarily, it did reset the agenda. "Water Protectors" pits fossil fuel companies against clean water, which many believe is a universal right. DAPL also engendered more protestors against the just-approved Trans Mountain Pipeline Expansion from Alberta to Vancouver. This project enlarges an existing pipeline to deliver three times its current volume of highly toxic and viscous tar sands oil to seven times as many tankers in the Salish Sea, just a few miles north of the pristine San Juan Islands and Seattle. (Full disclosure: I live in Seattle and write on an island in Puget Sound.)
This 700% increase in oil tanker traffic is not sitting well in the Pacific Northwest. Water Protectors are already calling it "Standing Rock North." Thousands of chopper blades.
The EPA releases a study that links fracking to water contamination. Fresh meat for chopper blades.
A coalition of outdoors enthusiasts, veterans, local businesses and environmentalists successfully argued that a $3 billion copper-nickel mining lease in Minnesota's Boundary Waters Canoe Area Wilderness was illegally granted. Chopper blades.
Investors worth over $5 trillion have committed to dump fossil fuel stocks. Over 80% of that is from funds run for profit. More chopper blades.
And Obama churns out environmental edicts daily.
Trump will undoubtedly give no quarter to environmentalists or native tribes. With all that's happened since his election, we collectively are setting chopper blades against his disdain for climate action. Isn't this how a democracy is supposed to work?
Photo courtesy of Fibonacci Blue
---
Carol Pierson Holding is President and Founder, Holding Associates. Carol serves as Guest Blogger for CSRHub. Her firm has focused on the intersection of brand and social responsibility, working with Cisco Systems, Wilmington Trust, Bankrate.com, the US EPA, Yale University's School of Environmental Sciences, and various non-profits. Before founding Holding Associates, Carol worked in executive management positions at Siegel & Gale, McCann Erickson, and Citibank. She is a Board Member of AMREF (African Medical and Research Foundation). Carol received her AB from Smith College and her MBA from Harvard University.
CSRHub provides access to corporate social responsibility and sustainability ratings and rankings information on 16,891+ companies from 135 industries in 133 countries. Managers, researchers and activists use CSRHub to benchmark company performance, learn how stakeholders evaluate company CSR practices and seek ways to change the world.