Two of CSRHub's founders went to Harvard Business School. (Cynthia and I were in the same study group!) So we remain interested in the affairs of our alma mater—especially as they relate to sustainability.
Colleges and Universities are pretty interesting "entities" from a sustainability perspective. Many of them are huge enterprises—as big or bigger than most major corporations. For instance, Harvard University employs about 16,000 faculty and staff (more staff than the 11,000+ students they serve). The University of Texas at Austin has about the same number of staff, 15,000, watching over its 50,000 students. In contrast, US Steel employs only 21,000 people—not too different!
We have 11 sources of information and 158 elements of data available on Harvard University, but can only rate it on 8 of our twelve measures of sustainability. This is a common situation for Colleges and Universities (we have 47 sources for US Steel).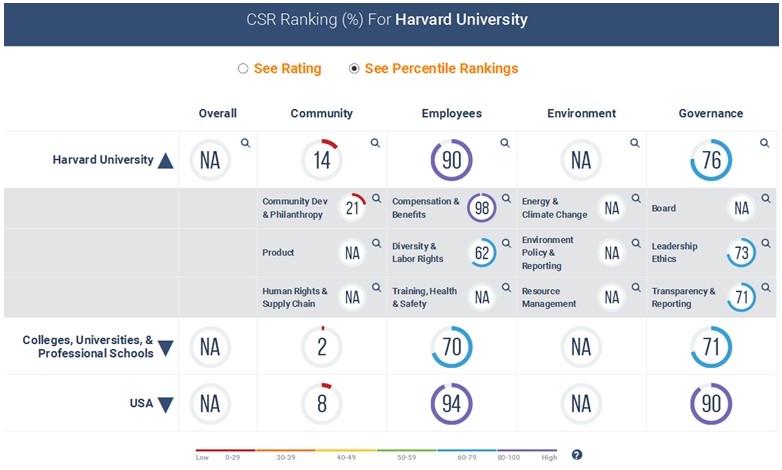 We currently offer full ratings on only 9 of the 88 education entities that we cover in CSRHub. This situation should improve as we gather more crowd and government sources. (For instance, the US Department of Education provides an interesting Scorecard that has more than 100 data items per college. (E.g., did you know that Harvard University graduates earn an average of $87,200 ten years after graduation, compared to $52,800 for UT grads?)
Colleges and universities face many of the same sustainability-related issues that businesses do. For instance, Harvard has tussled with its host communities (with both Cambridge and Allston), as it has expanded its facilities and grown its "footprint." The University recently went through a strike with its food workers, narrowly avoided a strike with its janitors, and faces a unionization effort among its graduate student workers. It has also made public commitments to reduce its carbon footprint, waste production, etc.
While schools like Harvard may have a "sustainability report," few educational institutions have generated a GRI report (10 in the past two years out of the 88 entities in this group) and none have done a CDP report. This lack of formal reporting, coupled with public/private governance structures that diffuse responsibility, make it hard to hold educational institutions to the same standard of behavior that we do for business entities. However, the core buyer for education is young and more socially aware than the average consumer of most business products. We expect to see students (and faculty) increase pressure on universities and colleges to both disclose more of their social behavior and to press schools to improve their social performance.
Search a company on CSRHub and see their sustainability performance.
---
Bahar Gidwani is CEO and Co-founder of CSRHub. He has built and run large technology-based businesses for many years. Bahar holds a CFA, worked on Wall Street with Kidder, Peabody, and with McKinsey & Co. Bahar has consulted to a number of major companies and currently serves on the board of several software and Web companies. He has an MBA from Harvard Business School and an undergraduate degree in physics and astronomy. He plays bridge, races sailboats, and is based in New York City.
CSRHub provides access to the world's largest corporate social responsibility and sustainability ratings and information. It covers over 16,800 companies from 135 industries in 133 countries. By aggregating and normalizing the information from 500 data sources, CSRHub has created a broad, consistent rating system and a searchable database that links millions of rating elements back to their source. Managers, researchers and activists use CSRHub to benchmark company performance, learn how stakeholders evaluate company CSR practices, and seek ways to improve corporate sustainability performance.