Each year our friends at Corporate Knights pull together a list of the 100 most sustainable corporations in the world. They base their assessment on an extensive analysis of the companies they study that includes a review of numerous facts and figures. CSRHub's aggregation engine strives to determine a consensus of the perceived sustainability performance for the 17,000 companies we track by combining input from 500 different sources. It is satisfying to see that Corporate Knights' more direct measurement and analysis approach aligns well with our methodology. Every one of the 100 companies on the Global 100 list had above average CSRHub ratings and the average overall rank was just below the 90th percentile.
We've pointed out in the past that some of the other efforts to pick top companies have not been as successful. A simple contrast of the average rating for Corporate Knight's picks with those of several other popular lists and indexes illustrates the difference.

We found it interesting to dig down one more layer in the Global 100 scores and look at the averages for each of CSRHub's twelve ratings subcategories. As you can see below, the Global 100 companies are especially strong in three areas: Compensation & Benefits, Energy & Climate Change, and Transparency & Reporting.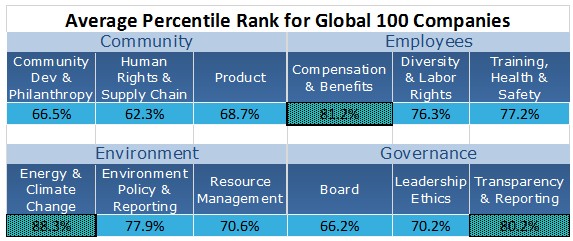 These three areas have historically been the best understood and most watched aspects of sustainability. However our field is developing and expanding to include many other areas of corporate social behavior. It will be interesting to see if Corporate Knights assigns more weight to these other areas of sustainability behavior in the future. If it does, we could see new players rise to the top of future Global 100 lists.
Search a company on CSRHub and see their sustainability performance.
---
Bahar Gidwani is CEO and Co-founder of CSRHub. He has built and run large technology-based businesses for many years. Bahar holds a CFA, worked on Wall Street with Kidder, Peabody, and with McKinsey & Co. Bahar has consulted to a number of major companies and currently serves on the board of several software and Web companies. He has an MBA from Harvard Business School and an undergraduate degree in physics and astronomy. He plays bridge, races sailboats, and is based in New York City.
CSRHub provides access to the world's largest corporate social responsibility and sustainability ratings and information. It covers over 16,800 companies from 135 industries in 133 countries. By aggregating and normalizing the information from 500 data sources, CSRHub has created a broad, consistent rating system and a searchable database that links millions of rating elements back to their source. Managers, researchers and activists use CSRHub to benchmark company performance, learn how stakeholders evaluate company CSR practices, and seek ways to improve corporate sustainability performance.