A recent New York Daily News cartoon features the dilemma faced by New York's Governor, Andrew Cuomo.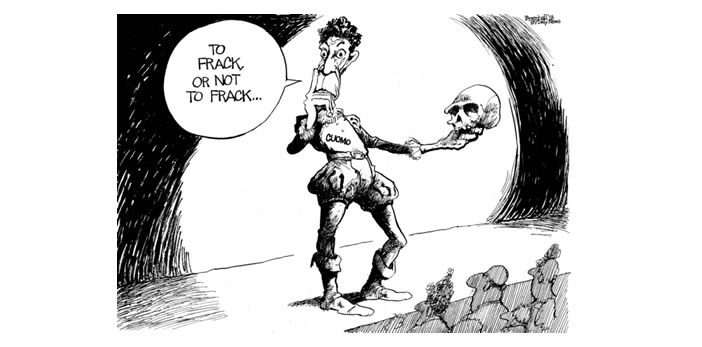 http://www.nydailynews.com/opinion/bramhall-cartoons-february-2013-gallery-1.1252690
Governor Cuomo had been barreling towards a late February deadline to decide whether or not to allow fracking in large parts of New York. His decision was highly anticipated and was expected to influence the decision process in other states (and communities in other parts of the world). Fracking is a method of mining in which cracks are created in shale in order to obtain gas, oil, or other substances that are inside it.
It seems that the Governor has now decided to postpone his decision, yet again. Once more unusual pressures may have been ads run in Iowa by anti-fracking activists. The authors of this campaign suspect that the Governor is considering running for President in 2016. Fracking is controversial in farm-oriented Iowa. Their ads created the threat that a pro-fracking decision by Cuomo would lead to an initially unfavorable impression of him, among Iowan Democrats.
CSRHub tracks 57 companies in our system, who have been identified as having an involvement in fracking. It will be interesting to see how this ongoing controversy affects these companies and how their sustainability performance is perceived.
---
Bahar Gidwani is a Cofounder and CEO of CSRHub. Formerly, he was the CEO of New York-based Index Stock Imagery, Inc, from 1991 through its sale in 2006. He has built and run large technology-based businesses and has experience building a multi-million visitor Web site. Bahar holds a CFA, was a partner at Kidder, Peabody & Co., and worked at McKinsey & Co. Bahar has consulted to both large companies such as Citibank, GE, and Acxiom and a number of smaller software and Web-based companies. He has an MBA (Baker Scholar) from Harvard Business School and a BS in Astronomy and Physics (magna cum laude) from Amherst College. Bahar races sailboats, plays competitive bridge, and is based in New York City.
CSRHub provides access to corporate social responsibility and sustainability ratings and information on nearly 7,000 companies from 135 industries in 82 countries. Managers, researchers and activists use CSRHub to benchmark company performance, learn how stakeholders evaluate company CSR practices and seek ways to change the world.