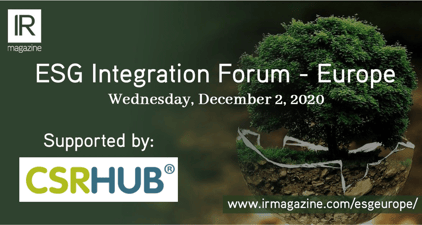 Join us at the upcoming virtual US and Europe ESG Integration Forums happening December 2nd - 4th.
CSRHub is excited to partner with IR Magazine and Corporate Secretary for the 2020 ESG Integration Forums in Europe and the US.
The events will feature investor relations, governance, and risk and compliance experts in a series of discussions that explore underlying factors that have driven the rise of ESG during the pandemic.
The virtual event's topics include: artificial intelligence,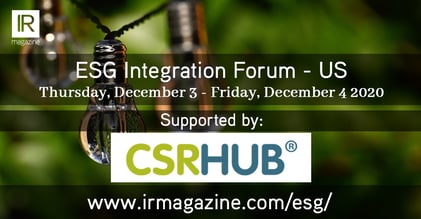 navigating climate risks, how the future of work will impact ESG integration, materiality matters, social and human capital trends, generating decision useful data for investors, reinventing ESG reporting and much more!
The ESG Integration Forum Europe will take place on December 2nd. To view the agenda, click here.
The ESG Integration Forum US will take place December 3rd and 4th. To view the agenda, click here.
As a partner for this year's event, we are excited to offer you a special member's discount. Use the code CSR25 to receive 25% off the ticket price! Book your place now for the European Forum and the US Forum.