By Cynthia Figge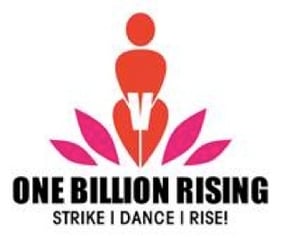 We invite you to "Rise Up Seattle", a One Billion Rising event on February 14th. As co-founder of the local chapter of the Women's Network for a Sustainable Future (WNSF), Cynthia is happy to announce that WNSF is a co-sponsor of this exciting event.
ONE BILLION RISING began as a call to action based on the staggering statistic that 1 in 3 women on the planet will be beaten or raped during her lifetime. With the world population at 7 billion, this adds up to more than ONE BILLION WOMEN AND GIRLS. On February 14, 2013, V-Day's 15th anniversary, we will join activists, writers, thinkers, celebrities, and women and men across the world as we demand change, strike, dance, and RISE UP in defiance of the injustices women suffer, demanding an end at last to violence against women.
"When we started V-Day 14 years ago, we had the outrageous idea that we could end violence against women," said Eve Ensler. "Now, we are both stunned and thrilled to see that this global action is truly escalating and gaining force, with union workers, parliament members, celebrities, and women of all backgrounds coming forward to join the campaign. When we come together on February 14, 2013 to demand an end to violence against women and girls it will be a truly global voice that will rise up."
RISE UP SEATTLE
Chocolate & Champagne Event
February 14th, 5:30-7:30+
The Center for Impact and Innovation
Information and tickets here
$15/person or $25/2 people (All are Welcome)
Ticket includes 2 tickets for champagne and/or microbrew
Be part of V-day, watch sensational dancers, an awe-inspiring singer and see film clips from a recently completed documentary while drinking champagne and enjoying Blommer Chocolates.
Our RISE UP SEATTLE Chocolate & Champagne event features art forms that celebrate the women and men who rise up to resist violence:
University of Washington Dancers - An Accomplished Singer - Powerful film clips - Amazing dancer Chris Daigre of Ewajo Center, leading participants in a dance of solidarity to end violence against women.
Learn More about the Event's Featured Non-Profits
Thank you to our hosts & sponsors
Join our LinkedIn Group
Or like us on Facebook
---
Cynthia Figge, Cofounder and COO of CSRHub is a forerunner and thought leader in the corporate sustainability movement. In 1996 she co-founded EKOS International, one of the first consultancies integrating sustainability and corporate strategy. Cynthia has worked with major organizations including BNSF, Boeing, Coca-Cola, Dow Jones, Noranda and REI to help craft sustainability strategy integrated with business. She was an Officer of LIN Broadcasting/McCaw Cellular leading new services development, and started a new "Greenfield" mill with Weyerhaeuser. She serves as Advisor to SNS Future in Review, Board Director for Compassionate Action Network, and served as President of the Board of Sustainable Seattle. Cynthia has an MBA from Harvard Business School. Cynthia is based in the Seattle area.
CSRHub provides access to corporate social responsibility and sustainability ratings and information on nearly 7,000 companies from 135 industries in 82 countries. By aggregating and normalizing the information from 200 data sources, CSRHub has created a broad, consistent rating system and a searchable database that links millions of rating elements back to their source. Managers, researchers and activists use CSRHub to benchmark company performance, learn how stakeholders evaluate company CSR practices and seek ways to change the world.