CSRHub members can enjoy a 40% discount to the following conference by selecting the "BBB Accredited Businesses and National Partners, Event Supporters, and Charities" option when registering."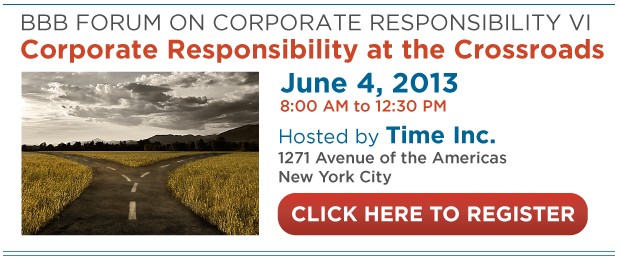 COST

BBB Accredited Businesses
and National Partners,
Event Supporters,
and Charities

— $90 Early Bird Rate Until
May 10, $95 after that

Non BBB Accredited, Others

— $160 Early Bird Rate until
May 10, $165 after that

Deadline for cancellations
with refunds — May 29

INFORMATION

Heather Layland
Program Associate
212.358.2829 or
hlayland@newyork.bbb.org

MAJOR SPONSORS

BENEFACTOR SPONSOR

FRIEND SPONSOR

MEDIA SUPPORTER

At the sixth BBB Forum, thought leaders will present insights about how corporate responsibility priorities and practices are changing in response to evolving business needs and public pressures.

Register now to:

• Hear the latest thinking about the evolving corporate responsibility scene.

• Learn how a corporate journey through changing expectations benefited the business.

• Get insights about trends and megatrends that are shaping business opportunities.

• Discover key features of shareholder-sponsored proposals on environmental and social issues.

• Explore new ideas about goal-setting and social impact assessment.

• And more...

Speakers will include:

• Kim Jeffery, Chairman, Nestlé Waters North America

• Mike Lawrence, Chief Reputation Officer & Executive Vice President, Cone Communications

• Diana Glassman, Head of Environmental Affairs, TD Bank U.S.

• Christopher T. Lloyd, Executive Director, Public Policy and Corporate Responsibility, Verizon Communications

• Louise Raymond, Vice President, Corporate Responsibility & Sustainability, The McGraw-Hill Companies

• David Vidal, Senior Fellow, The Conference Board Initiative on Sustainability

• Kellie Huennekens, Assistant Director, Corporate Governance Center, Ernst & Young, LLP

• Laura Gitman, Managing Director, Advisory Services, BSR

(List in formation)

Seating is limited, advance registration is required.

Event Supporters:

Advertising Self-Regulatory Council, American Sustainable Business Council, BSR, Council of Better Business Bureaus, CSRHub, CSRWire, Ethics and Compliance Officer Association, Forum for the Future, Governance & Accountability Institute, Inc., Manhattan Chamber of Commerce, Net Impact NYC, New York Society of Association Executives, NYCharities.org, Sustainability Practice Network, The Robert Zicklin Center for Corporate Integrity. (List in formation)
Cancellation Policy: If you register, need to cancel, and wish to request a refund, please notify us in writing by email to hlayland@newyork.bbb.org no later than 5:00 PM on Wednesday, May 29, 2013. We regret that we will not be able to offer refunds after that time, and likewise, cannot re-apply registration fees for this event to other purposes. You may send a substitute attendee in your place if necessary; we ask that you give us advance notice of the change if at all possible, to ensure a smooth event check-in process for your attendee. Thank you!