Join us as at Paradise Point in San Diego, CA, June 3-6 where sustainability, brand and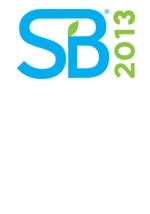 innovation professionals come together from around the world to explore how to build better brands for tomorrow.
Our Co-founder and COO Cynthia Figge will speak at the opening of the event on June 4. Cynthia will present "New Insights into the Correlation Between CSR and Brand Strength." Cynthia will be making a special announcement you won't want to miss!
We look forward to seeing CSRHub members at SB'13!
For more information and to register, click here. CSRHub members can enjoy a 20% discount off current pass prices by using NWSPKSB13 code when registering.
---
Cynthia Figge is a forerunner, thought leader and speaker on the corporate sustainability movement. As the co-founder and COO of CSRHub, Cynthia's team provides free corporate sustainability ratings on over 7,300 publicly-traded and private companies worldwide. In addition to CSRHub, Cynthia is the co-founder of EKOS International, one of the first consultancies to integrate sustainability and corporate strategy. She has crafted corporate sustainability strategies for a host of major organizations, including BNSF, Boeing, Coca-Cola, Dow Jones, and REI. Cynthia also serves as an advisor to SNS Future in Review, Board Director of Compassionate Action Network, and served as President of the Board of Sustainable Seattle. She has an MBA from Harvard Business School. Prior speaking engagements in corporate responsibility have included SRI Basecamp, Future in Review, Sustainable Brands, and SRI in the Rockies.