Social Branding Seminar
Sept 24-25, 2013 | W Hollywood, California
We wanted to personally invite you to the 2013 We First Social Branding Seminar: the only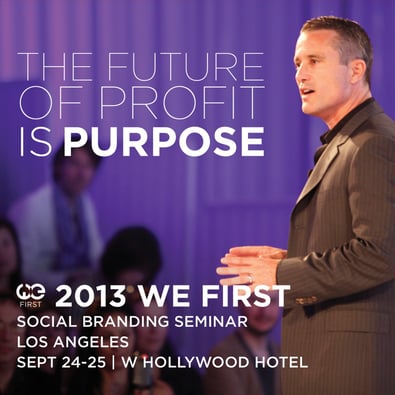 event focused on the intersection of corporate purpose and social marketing, it's a hands-on executive training summit all about how to tell the story of the good work you do in ways that build your company's reputation, employee productivity, customer sales and social impact.
We've secured a special rate for our members. Just go to www.WeFirst13.com and enter promo code: CSRHUB to enjoy $500 off! But make sure you register asap: It's already 70% full and like last year, the Seminar will sell out.
What makes the 2013 We First Seminar the most important branding event of the year?
o 2 days of hands-on training: You'll learn how to harness the power of brand storytelling through the latest social and mobile technologies and walk away with an actionable Social Branding Blueprint. The training is divided into six Modules with expert speakers and breakout sessions between each. Full training agenda here.
o You'll learn from the the best marketers and community architects in the world including:
o Simon Mainwaring, NY Times Best-selling author and CEO of We First
o Jim Hanna, Director of Environmental Impact at Starbucks Coffee Company
o Tom LaForge, Global Director, Human & Cultural Insights at the Coca-Cola Company
o Aaron Sherinian, VP for Communications and Public Relations for the UN Foundation
o Paull Young, Director of Digital at charity: water.
o With more announcements to come…
o The Seminar is capped at 200 attendees who like you, are responsible for growing their company's reputation, sales, and employee engagement.
o The training attracts leaders from a wide range of industries. Here are just a few of the companies coming to the 2013 Seminar next month: Nestle Purina PetCare, Coca-Cola, Starbucks, Staffmark, FirstCapital Bank of Texas, In-N-Out Burger, Thrive Farmers, and The UN Foundation.
It's no longer good enough to just "be on social media." Marketing 3.0 will be about becoming a purpose-driven social brand and the We First Social Branding Seminar will show you exactly how to bring your company's core values to life.
Last year's event sold out, so don't wait: Grab your tickets, and get ready to transform your business! www.wefirstbranding.com/seminar