CSRHub CEO Bahar Gidwani has authored a new Director Notes for The Conference Board.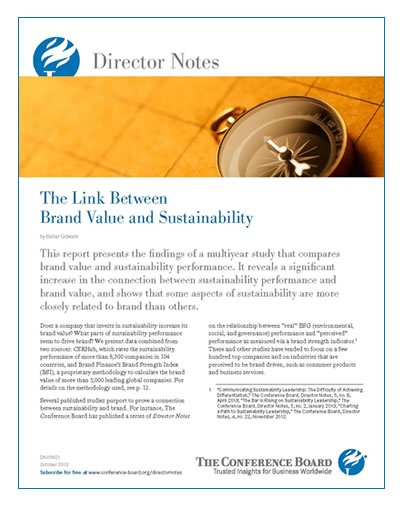 The Conference Board has now published a new Director Notes on CSRHub's recent brand study, The Link Between Brand Value and Sustainability. Bahar authored the study working with Brand Finance, the global brand analyst headquartered in London.
This study proves there is a strong link between Brand Strength and Sustainability, with the correlation doubling in 2012 to 28%!
You may have seen this study in Bahar's 5-part blog series on CSRHub or other outlets. Now, you may download this beautifully published study all in one PDF document, including all the support charts and graphs.
---
Bahar Gidwani is CEO and Co-founder of CSRHub. He has built and run large technology-based businesses for many years. Bahar holds a CFA, worked on Wall Street with Kidder, Peabody, and with McKinsey & Co. Bahar has consulted to a number of major companies and currently serves on the board of several software and Web companies. He has an MBA from Harvard Business School and an undergraduate degree in physics and astronomy. Bahar is a member of the SASB Advisory Board. He plays bridge, races sailboats, and is based in New York City.
CSRHub provides access to corporate social responsibility and sustainability ratings and information on 8,400+ companies from 135 industries in 104 countries. By aggregating and normalizing the information from 290+ data sources, CSRHub has created a broad, consistent rating system and a searchable database that links millions of rating elements back to their source. Managers, researchers and activists use CSRHub to benchmark company performance, learn how stakeholders evaluate company CSR practices and seek ways to change the world.