Cynthia Figge, Cofounder and COO of CSRHub, will be attending the Sustainable Seattle and Women's Network for a Sustainable Future Event on March 6th.
Connect with other women and men to discuss women in sustainability and how we can create new systems to move sustainable business forward.
The guest speaker is KoAnn Vikoren Skrzyniarz, CEO/Founder of Sustainable Brands, presents Getting the Frame Right – What Comes Next For Women Leading Sustainability.
Thursday, March 6th, 2014
5:00 -7:30 pm
Presentations begin at 5:30 pm
Adobe Systems Inc
801 North 34th Street, Seattle
Tickets: $15 online
$20 day of and at the door
Appetizers & non-Alcoholic Beverages included
Want to read more on this topic? Check out KoAnn's article Getting the Frame Right
There are 2 scholarship tickets left, contact Cheryl @ wnsf.seattle@gmail.com
---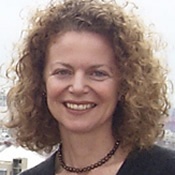 Cynthia Figge is a forerunner and thought leader in the corporate sustainability movement. She is COO and Cofounder of CSRHub, the world's largest database that aggregates and organizes data and knowledge on the social, environmental, and governance performance of 8,400 companies to provide sustainability ratings to the marketplace. In 1996 she co-founded EKOS International, one of the first consultancies integrating sustainability and corporate strategy. Prior to founding EKOS, she was an officer of LIN Broadcasting / McCaw Cellular, and led new businesses and services with Weyerhaeuser, New York Daily News; and with New Ventures. Cynthia is Board Director of the Compassionate Action Network International. Cynthia received her bachelor's degree in Economics and an MBA from the Harvard Business School. She lives in the Seattle area.
CSRHub provides access to corporate social responsibility and sustainability ratings and information on 8,900 companies from 135 industries in 103 countries. By aggregating and normalizing the information from 300+ data sources, CSRHub has created a broad, consistent rating system and a searchable database that links millions of rating elements back to their source. Managers, researchers and activists use CSRHub to benchmark company performance, learn how stakeholders evaluate company CSR practices and seek ways to change the world.