By Bahar Gidwani
part 3 of a 3-part series
CSRHub recently released many new web features and an important new Excel-based tool, CSRHub Dashboard, to serve our 14,000 members. These changes are in response to our members asking us to give them more control over the data, with the ability to get granular details, access to both ratings and rankings, and a way to bring our data to their desktops via commonly-used tools such as a spreadsheet.
We have been updating the site about twice a year since our launch in late 2010. We've also been adding new sources (now up to 365) and new companies (we have data on more than 10,000 companies in 104 countries). However, this release took CSRHub to a new level. We now offer the most comprehensive database of sustainability information in the world, and have become a core tool for a wide range of sustainability research.
As we look ahead over the next two years, we hope to offer our members even more:
Expand our coverage to include data on more than 50,000 organizations.

Much is known about the sustainability performance of the world's 1,000 largest companies. Most of them have permanent, professional sustainability staff who create CSR reports, use the GRI standard, send data to CDP, and encourage their companies to commit to the UN Global Compact. But, while the world's top companies contribute a lot to the world' economy, there are millions of other public companies, private companies, not for profits and government organizations who contribute much more. To change the corporate and organizational social behavior of these firms, we need to provide them with relevant sustainability data through tools such as CSRHub and our new Dashboard. We already have some data on about 140,000 smaller organizations. We hope to add enough new data to bring at least 40,000 of these firms into public view.
Continue to add new sources. We plan to integrate more data from certification groups, supply chain software firms, and government organizations. These sources collect data on both big companies and on thousands of smaller companies and organizations. We also plan to ingest "crowd" data based on "semantic analysis" into our system.
Integrate our data into more tools and applications. More than 60 organizations have signed up to use the CSRHub Specification for REST Access (CSRA). The use data from this "API" to improve how consumers purchase products, candidates pick the right job, and sustainability practitioners find the right "best practice" to fix a problem. Our partners follow many different business models and reside on six of the seven continents (we don't have partners yet in Antarctica!). We expect soon to see hundreds of developers using our simple, cheap source of sustainability data.
Help our users find sustainability-related tools and products. We already offer access to more than 100,000 reports from a wide range of sources. But, we need to do a better job of bringing together tools, reports, and resources and tying them to specific "use cases." We plan to launch a "store" that may help with this. It will contain sections for each use case we serve. And, it will have a page for each company we track and will show which products are available to do research on that company.
As you can see, we have a lot of work ahead of us. As a B Corporation, we are dedicated to both making money and to using transparent access to corporate sustainability information to help change corporate social responsibility performance. We believe we are contributing value to our users—and that our value is growing. Our new higher subscription price will help us generate more cash that we can use to help achieve our ambitious goals.
Please let us know if you support our goals and agree with our longer-range plan. Your feedback and support have helped us tremendously. Thanks.
Part 1
What's New at CSRHub? A lot!
Part 2
CSRHub Dashboard
---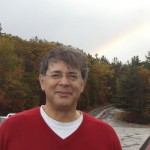 Bahar Gidwani is CEO and Co-founder of CSRHub. He has built and run large technology-based businesses for many years. Bahar holds a CFA, worked on Wall Street with Kidder, Peabody, and with McKinsey & Co. Bahar has consulted to a number of major companies and currently serves on the board of several software and Web companies. He has an MBA from Harvard Business School and an undergraduate degree in physics and astronomy. Bahar is a member of the SASB Advisory Board. He plays bridge, races sailboats, and is based in New York City.
CSRHub provides access to the world's largest corporate social responsibility and sustainability ratings and information, covering on 10,000 companies from 135 industries in 104 countries. By aggregating and normalizing the information from 365 data sources, CSRHub has created a broad, consistent rating system and a searchable database that links millions of rating elements back to their source. Managers, researchers and activists use CSRHub to benchmark company performance, learn how stakeholders evaluate company CSR practices, and seek ways to improve corporate sustainability performance.
CSRHub is a B Corporation, an Organizational Stakeholder (OS) with the Global Reporting Initiative (GRI), a silver partner with CDP (Carbon Disclosure Project), and an Advisory Council Member of Sustainability Accounting Standards Board (SASB).