See Bahar Gidwani's interview with Brian Lehrer aired Wednesday, May 13th at 7:30 p.m. ET on CUNY channel in NYC. The interview is also available online here. They discuss CSRHub's big data approach to rating all companies on their sustainability performance.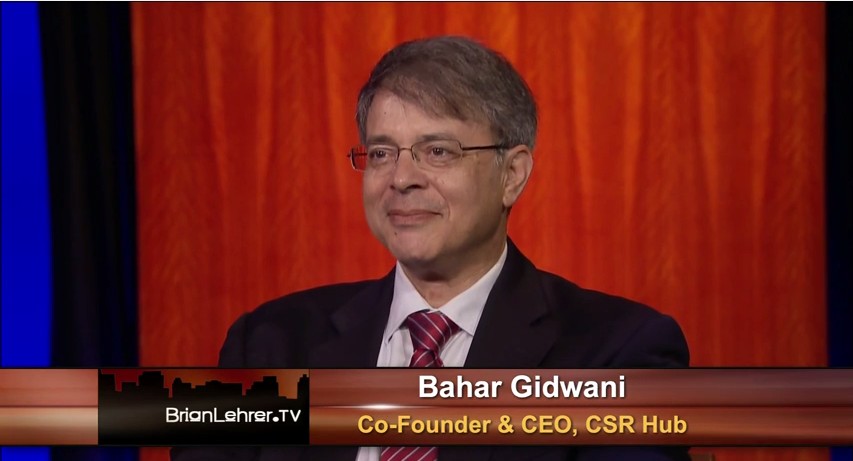 Bahar is joined by Kevin Hagen, Director of Corporate Responsibility at Iron Mountain, a leading provider of storage and information management services. Kevin was previously head of CSR for REI.
Brian Lehrer, the popular Peabody Award-winning host of WNYC Radio's Brian Lehrer Show, hosts an hour-long weekly television show on a wide variety of topics, including the digital age and how it's transforming our world; new social and political trends; entrepreneurs of change; New York City politics; grassroots environmental efforts; one-of-a-kind, timely stories in the news; and innovative inventions and apps.
Image courtesy of http://www.cuny.tv/show/brianlehrer
---

Bahar Gidwani has built and run large technology-based businesses for many years. Bahar holds a CFA, worked on Wall Street with Kidder, Peabody, and with McKinsey & Co. Bahar has consulted to a number of major companies and currently serves on the board of several software and Web companies. He has an MBA from Harvard Business School and an undergraduate degree in physics and astronomy. Bahar is a member of the SASB Advisory Board. He plays bridge, races sailboats, and is based in New York City.
CSRHub provides access to corporate social responsibility and sustainability ratings and information on 14,400+ companies from 135 industries in 127 countries. Managers, researchers and activists use CSRHub to benchmark company performance, learn how stakeholders evaluate company CSR practices and seek ways to change the world.