Company executives, institutional investors and practice leaders engage on shifting shareholder expectations and how Integrated Thinking improves company resilience and net performance.
Join Unified Discussions with Industry Leaders Including
Mary Adams
Founder
Smarter-Companies
Bill Baue
Co-Founder
Sustainability Context Group
Co-Founder & Chief Engagement Architect
Convetit
Laura Berry
Executive Director
Interfaith Center on Corporate Responsibility
Herb Blank
Managing Director
S-Network Global Indexes
Dan Brown
Leadership Coach & Principal
Xponential Coaching & Consulting
Francis Byrd
Founder & Chief Executive Officer
Byrd Governance Advisory
John Edelman
Managing Director
Global Engagement & Corporate Responsibility
Edelman
Dawn Edwards
Co-Founder
Pomegranate Consulting LLC
Toni Muzi Falconi
Senior Counsel
Methodos
Silvia Garrigo
Senior Fellow Corporate Responsibility
Sustainable Development & Human Rights
Retired Executive Chevron
Russ Gaskin
Consultant, Speaker & Change Agent
CoCreative Consulting
Bahar Gidwani
Co-founder & CEO
CSRHub
Colin Grant
Chief of Strategy & Business Development
Figbytes Inc.
Amy Hall
Director of Social Consciousness
Eileen Fisher
Eric Israel
Governance Expert
Helle Bank Jorgensen
Chief Executive Officer
B. Accountability
Chairman
eRevalue
Global Facilitator
UNGCs Global Compact Board Program
Susanne Katus
Vice President, Business Development
eRevalue
Linda M. Kelley
Principal
Transitioning to Green
Maureen Kline
Director of Public Affairs & Sustainability
Pirelli Tire North America
Riva Krut
Vice President & Chief Sustainability Officer
Danbury, CT
Becca Makover
Consultant
Gap International
Bruce Markewicz
Managing Director, Beacon Interactive
Beacon Healthcare Communications
Kim Marotta
Director of Sustainability
MillerCoors
P.J. Marshall
Co-Founder & Executive Director
Restore the Earth Foundation
Mark W. McElroy, Ph.D.
Executive Director
Center for Sustainable Organizations
Partner
Thomas & McElroy LLC
Anne-Marie McGonnigal
Vice President, Strategy & Investor Relations
eRevalue
Gilles Mesrobian
Faculty, Bard MBA in Sustainability
Bard College
Senior Associate
Support Center/Partnership in Philanthropy
Ariel Meyerstein, PhD
Vice President, Labor Affairs, Corporate Responsibility & Corporate Governance
United States Council for International Business
Rob Michalak
Global Director of Social Mission
Ben & Jerry's
Michael Muyot
President
CRD Analytics
Sandy Nessing
Managing Director, Sustainability & EHS Strategy & Design
American Electric Power
Ron Nielsen
President
ICBIS – International Centre for Business Innovation and Sustainability
George Perlov
Principal
George Perlov Consulting
Chris Pinney
President & Chief Executive Officer
High Meadows Institute, Inc.
David P. Podmayersky
Chief Security Officer
EarthColor
Shahnaz Radjy
Senior Communications Specialist
Vitality Institute
Veena Ramani
Senior Director, Corporate Program
Ceres
James Reeves
Vice President, Business & Social Purpose
Edelman
William G. Russell
Principal
Transitioning to Green
Celine Solsken Ruben-Salama
Faculty Member, Master of Science Sustainability Management Program
Columbia University, Earth Institute
William C. Steers
General Manager, Communications and Corporate Responsibility
ArcelorMittal
Kristen Sullivan
Partner
Deloitte
Lex Suvanto
Managing Director, Financial Communications
Edelman
Dominic Tancredi
Chief Executive Officer
Dom & Tom Inc.
Thomas Tancredi
Chief Strategy Officer
Dom & Tom Inc.
Ralph Thurm
Co-Founder
ThriveAbility Foundation
Mark Tulay
Program Director & COO
GISR
Marcy Twete
Division Manager, Corporate Responsibility
ArcelorMittal
Julia Urbanchuk
Senior Director,
Learning & Organization Development
eBay Enterprise
Todd Weinstein
Digital Account Director
Beacon Healthcare Communications
John Wilson
Head of Corporate Governance, Research and Engagement
Cornerstone Capital Group
Jeana Wirtenberg
President & Chief Executive Officer
Transitioning to Green
Professor, HR/Employees & Organizations
Bard College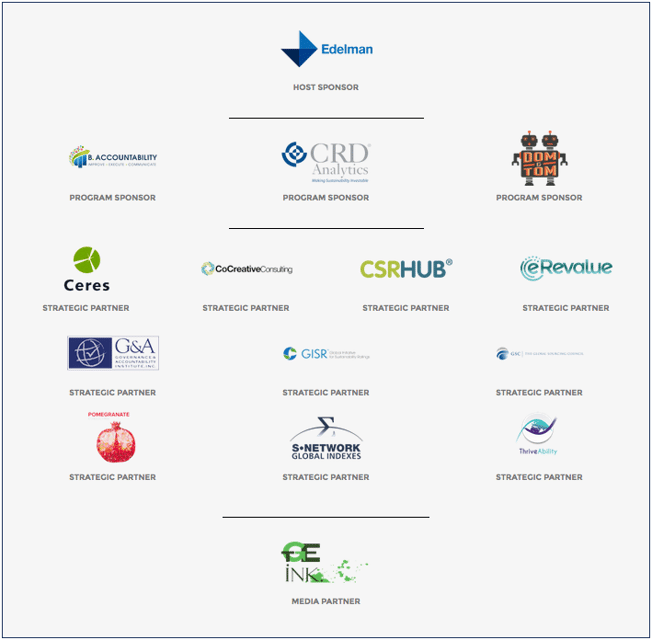 Christopher P. Skroupa
Founder and CEO

@SkytopStrat Skytopstrategies.com LinkedIn