CSRHub COO and CoFounder Cynthia Figge will be moderating a panel at Sustainable Brands 2016 conference, in San Diego on June 6-9. The panel will be discussing New CDP Product-Level Supply Chain Data: Analysis and Recommendations.
At SB'16 San Diego, thought leaders, brand innovators, designers, and global business leaders will gather to explore various topics and issues pertinent to sustainability. Participants are leading the way with creativity and new products and services facilitating the transition to a truly sustainable future.

Wednesday, June 8th 11:30am-12:30pm PDT
New CDP Product-Level Supply Chain Data: Analysis and Recommendations
Betty Cremmins, Senior Manager, CDP
Christoph Meinrenken, Chief Data Scientist, COCLEAR
Cynthia Figge, COO and CoFounder, CSRHub
SB'16 San Diego is the largest gathering of change makers representing many of the world's largest global brands, disruptive social entrepreneurs, NGO's, investors, academia plus a multitude of other stakeholders that support them. For more information regarding the event, click here. To register for the conference, members of CSRHub may use a 20% Speaker Discount Code. Please use NWSPKSB16SD when registering.
New CDP Product-Level Supply Chain Data: Analysis and Recommendations Panel will cover:
The Carbon Disclosure Project (CDP) has partnered with CoClear to analyze its product life cycle data from CDP's Supply Chain Climate Change Information Request. Over 1,500 companies from 30 countries, representing 10 industry sectors, responded to the CDP questionnaire in 2013, 2014 & 2015. These companies provided life cycle emissions data on more than 300 products. Prior efforts to understand industry emissions often relied on "top-down" methods of analysis, examining high level, aggregate emissions data. With top-down analyses, it is often difficult to pinpoint with particularity the causes of carbon emissions – and which products and brands in a company's portfolio offer the most potential for efficiency improvements. This analysis, on the other hand, identifies which life cycle stage cause highest emissions in each industry and how sectors track and manage these hotspots over time. The goal is to help industries identify efficiency improvements throughout their value chain.
---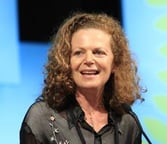 Cynthia Figge is a forerunner and thought leader in the corporate sustainability movement who co-founded EKOS International in 1996, one of the first consultancies integrating sustainability and corporate strategy. Cynthia is COO and Cofounder of CSRHub. Cynthia has worked with major organizations including BNSF, Boeing, Coca-Cola, Dow Jones, and REI to help craft sustainability strategy integrated with business. She was an Officer of LIN Broadcasting/McCaw Cellular leading new services development, and started a new "Greenfield" mill with Weyerhaeuser. She serves as Advisor to media and technology companies, and served as President of the Board of Sustainable Seattle. Cynthia has an MBA from Harvard Business School. Cynthia is based in the Seattle area.