CSRHub is pleased to announce that it is now integrating data from Arabesque S-Rayâ into its consensus ratings. Using quantitative data techniques and a rules-based approach, Arabesque S-Ray provides technology that is used by some of the world's largest investors, corporations and consultancies to assess the sustainability performance of listed companies globally. S-Ray data will now directly contribute to CSRHub's sustainability analysis of more than 7,000 companies, and will enhance the ratings for all 36,000 companies that CSRHub covers.

Arabesque S-Ray systematically combines over 250 ESG long-term metrics with news and NGO signals from over 30,000 sources to provide dynamic and responsive scores. Covering over 85% of global market cap and drawing from over four million ESG data points daily, S-Ray utilises an ever-expanding and diverse range of data to create quantitative metrics for the assessment of corporate performance.
The chart below compares the S-Ray ESG Score of 6,263 companies with CSRHub's own ratings, captured on 1 December, 2019. The data shows a rating correlation of 58%, which is particularly striking given that CSRHub's ratings were published two months after those of S-Ray, and highlights the effectiveness of S-Ray's daily scoring approach.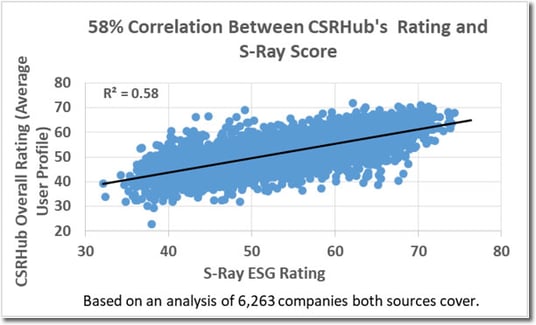 Arabesque S-Ray joins other major ESG data and ratings providers who supply data to CSRHub, such as MSCI, Vigeo Eiris, ISS, and S&P Trucost. Each of these providers offers a unique perspective on the ESG performance of the companies they cover—perspectives that CSRHub combines with crowd, non-profit organization, and government datasets to create its consensus rating.
Todd Arthur Bridges, Global Head of Sustainable Investing and ESG Research at Arabesque S-Ray, said; "CSRHub is a truly unique company that knows the importance of systems-level thinking, and has brought the sustainable finance ecosystem together in a systematic way through their Consensus Ratings. Information is critical to well-functioning and efficient markets, and the leadership team of CSRHub has been able to break down the ESG paywalls across commercial organizations to help innovate and advance progress. The CSR Ratings and Rankings are well designed and allow for proper ESG consensus calibration – which can easily be understood by many users across the sustainable finance stakeholder community. Arabesque S-Ray is proud to be part of CSRHub and their mission."
Bahar Gidwani, Cofounder and CTO at CSRHub said; "We were very pleased when our analysis showed that our methodology and results were closely aligned with those of S-Ray. S-Ray data appears to offer a current and forward-looking view of company ESG performance that matches well with CSRHub's backward looking perspective. By combining our work, investors and other researchers may be able to better understand and predict how perception of company ESG ratings will change."
About CSRHub
CSRHub offers one of the world's broadest and most consistent set of Environment, Social, and Governance (ESG) ratings, covering 20,000 companies. Its Big Data algorithm combines millions of data points on ESG performance from hundreds of sources, including leading ESG analyst raters, to produce consensus scores on all aspects of corporate social responsibility and sustainability. CSRHub ratings can be used to drive corporate, investor and consumer decisions. For more information, visit www.CSRHub.com. CSRHub is a B Corporation.
About Arabesque S-Ray GmbH
S-Ray® is a leading analytics tool developed by Arabesque that assesses the sustainability performance of over 7,000 listed corporations using self-learning quantitative models and data scores. The technology systematically combines over 250 ESG metrics with news signals from over 30,000 sources across 170 countries. It is the first tool of its kind to rate companies on the normative principles of the United Nations Global Compact (GC Score). Additionally, S-Ray provides an industry-specific assessment of companies' performance on financially material sustainability criteria (ESG Score), together with an assessment of how companies report their emissions (Temperature™ Score). These scores are combined with a preferences filter that assesses a company's business involvements. S-Ray daily data products and services are used by some of the world's leading financial institutions, investors, corporations and consultants.