In case you missed it with all that is going on in the world these days, we thought we would curate a list of recent webinars for your ESG investing education.


CSRHub® co-founder Bahar Gidwani CTO gave a webinar presentation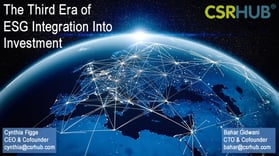 The Third Era of Integrating ESG Into Investment Processes in partnership with BrightTALK.
A wider range of asset owners are requesting investment products that have sustainability-related claims. This has prompted the creation of passive ETFs, single theme funds (e.g., gender lens, decarbonized), and various types of hedge funds (including long-short and short-only offerings).
Download the webinar to hear what third generation investors appear to be looking for, https://esg.csrhub.com/csrhub-webinar-3rd-era-esg-investing.
CSRHub® co-founders Cynthia Figge CEO and Bahar Gidwani CTO gave a webcast presentation Integrating ESG Consensus Ratings to Create Actionable Signals Business Intelligence in partnership with FactSet.
Watch the on-demand webcast here, https://bit.ly/38YJEQp.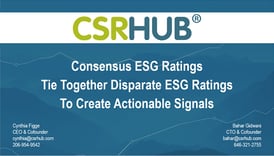 See more on CSRHub on the Open:FactSet Marketplace here, https://esg.csrhub.com/factset.
See CSRHub's ESG Business Intelligence Open:FactSet catalog page here, https://open.factset.com/products/csrhub-esg-business-intelligence/en-us.
As a B Corporation, the CSRHub team members are all working remotely and are ready to continue serving your requests.
---
CSRHub offers one of the world's broadest and most consistent set of Environment, Social, and Governance (ESG) ratings, covering 19,000 companies. Its Big Data algorithm combines millions of data points on ESG performance from hundreds of sources, including leading ESG analyst raters, to produce consensus scores on all aspects of corporate social responsibility and sustainability. CSRHub ratings can be used to drive corporate, investor and consumer decisions.