CSRHub CTO and Co-Founder Bahar Gidwani will be speaking at Skytop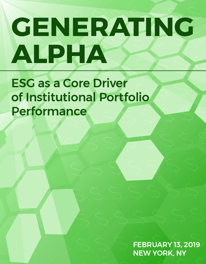 Strategies Generating Alpha conference, in New York on February 13th. Bahar will join a panel discussing Alpha from Impact: Identifying Opportunities in ESG.
Companies have begun to implement ESG practices to reshape how they create value. This value manifests itself through returns in the equity selection process, as valuation models emerge to demonstrate those returns for institutional investors who seek out companies with strong ESG practices and ratings.
The Generating Alpha 2019 program will address topline issues in the ways that allocators select investments through fund managers and through the advice of investment consultants.
This full-day discussion will include information on financial evaluations, portfolio allocations and how investment experts create portfolios using ESG factors as core drivers of value. The program will also address benchmarking (using indexes and other vehicles) to manage risk, volatility and other considerations facing institutional investors today.
FEBRUARY 13, 2019
EDELMAN
250 HUDSON ST
NEW YORK, NY
Alpha from Impact: Identifying Opportunities in ESG
Moderator: Paula Luff, Director, Sustainability and Impact, Inherent Group
Panelists:
Kyle Balkissoon, Partner, Stance Capital
Hernando Cortina, CFA, Director, Indexes & Analytics, JUST Capital
Bahar Gidwani, CFA, FSA, Co-founder & CTO, CSRHub
Jared Landaw, Chief Operating Officer and General Counsel, Barington Capital Group, L.P.Title
For the full program, click here.
Friends of CSRHub receive a 25% discount off registration using code CSRHUB2019.
As the corporate landscape evolves around global, social, environmental and economic change, Skytop Strategies works to facilitate discussion with executive-level corporate leaders, institution investors, stakeholders, reputable industry experts, and authoritative NGO/government agencies around corporate strategy.
---

Bahar Gidwani has built and run large technology-based businesses for many years. Bahar holds a CFA (Chartered Financial Analyst) and was one of the first people to receive the FSA (Fundamentals of Sustainability Accounting) designation from SASB. Bahar worked on Wall Street with Kidder, Peabody, and with McKinsey & Co. He has founded several technology-based companies and is a co-founder of CSRHub, the world's broadest source of corporate social responsibility information. He has an MBA from Harvard Business School and an undergraduate degree in physics and astronomy. He plays bridge, races sailboats, and is based in New York City.
CSRHub is the largest ESG and sustainability rating and information platform globally. We aggregate 180M data points from 605+ data sources including 10 leading ESG analyst databases. Our patented algorithm aggregates, normalizes, and weights data to rate 18,000 companies in 132 countries across 136 industries. We track 97% of world market capitalization. We cover 12 subcategories of ratings and rankings across the categories of environment, employees, community and governance. We show underlying data sources that contribute to each subcategory's ratings. CSRHub metrics are a consensus view (any 2 sources may have about a 30% correlation so we make sense of the disparate data). We tag companies for their involvement in 17 Special Issues. We provide Macro-enabled Excel dashboard templates, customizable dashboards, and an API. Our big data technology enables 85% full coverage of data across our rated companies and robust analyses. We provide historical ratings back to 2008.