CSRHub CTO and Co-Founder, Bahar Gidwani, will be speaking at the 2020 BattleFin Ensemble & Discovery Days event. The conference will take place virtually September 29th - 30th, 2020.
BattleFin's panel lineup is broad and current, including discussions on the recovery of the travel industry, tech and consumer stock insights, macroeconomic trends, and even a panel focusing on the current election.
The two-day conference aims to use alternative data insights to predict some of the changing impacts Covid-19 will have on Q3 earnings.
Bahar will take part in a roundtable discussion on the Institutional Investor's Perspective sponsored by AWS on Tuesday at 11:35am ET alongside executives from:
Sentieo - Financial Research for a Market Edge

American Century Investments - Leading Asset Management Firm

Worldwide World Pensions Council - The Asset Owners' Think Tank
For the full agenda, a complete list of speakers,
and the opportunity to register, click here.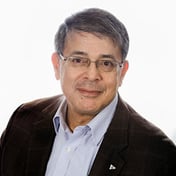 Bahar Gidwani has built and run large technology-based businesses for many years. Bahar holds a CFA (Chartered Financial Analyst) and was one of the first people to receive the FSA (Fundamentals of Sustainability Accounting) designation from SASB. Bahar worked on Wall Street with Kidder, Peabody, and with McKinsey & Co. He has founded several technology-based companies and is a co-founder of CSRHub, the world's broadest source of corporate social responsibility information. He has an MBA from Harvard Business School and an undergraduate degree in physics and astronomy. He plays bridge, races sailboats, and is based in New York City.
CSRHub offers one of the world's broadest and most consistent set of Environment, Social, and Governance (ESG) ratings, covering 20,000 companies. Its Big Data algorithm combines millions of data points on ESG performance from hundreds of sources, including leading ESG analyst raters, to produce consensus scores on all aspects of corporate social responsibility and sustainability. CSRHub ratings can be used to drive corporate, investor and consumer decisions. For more information, visit www.CSRHub.com. CSRHub is a B Corporation.