How are companies utilizing the newest technology and data to make more informed decisions?
Check out Cynthia Figge, our CEO and Co-founder, on last week's CPOstrategy INSIGHT panel discussion on procurement transformation, strategy, and application.
Cynthia was joined by three other CEOs from prominent data intelligence and rating companies: Aleksandr Yampolskiy from Security Scorecard, Ilya Levtov from Craft, and Lance Younger from ProcureTech. The four leaders shared valuable insights about digital procurement's evolving role in companys' decisions and strategies.
Watch the discussion to learn about:
The transformation of procurement over time and its impact

Procurement technology's role in prioritizing sustainable data

How data can mitigate the growing complexity and risk in supply chains

Covid-19's impact on data and technology collaboration


Data and intelligence priorities moving forward
Cynthia Figge reflects on data and intelligence priorities when it comes to the future of procurement:
"As companies have been outsourcing or have a complex value stream, the scrutiny and responsibility to look at the impact of a business is making the management of procurement very integral in addressing and solving social problems, and improving business performance."
Cynthia emphasizes that going forward, it is imperative that companies understand on a deep level what is happening environmentally and socially, and hold supply chains responsible. For more insights from these industry leaders, be sure to watch the panel discussion below:


Cynthia Figge CEO and Co-founder, CSRHub LLC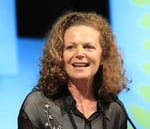 Cynthia Figge is a forerunner, entrepreneur, and thought leader in the corporate sustainability movement. Cynthia is CEO and co-founder of CSRHub, a leading big-data ESG (environment, social, governance) information platform. CSRHub provides consensus ratings on the performance of 20,000 companies worldwide and serves the corporate, financial, and academic sectors and API partners. Cynthia co-founded EKOS International in 1996, one of the first consultancies integrating sustainability and corporate strategy. She has worked with major organizations including Boeing, Coca-Cola, Dow Jones, and REI to help craft sustainability strategy integrated with business. Cynthia is a national speaker on trends in ESG, corporate social responsibility (CSR), and business intelligence. Prior to becoming an entrepreneur in CSR/ESG, Cynthia was an officer of LIN Broadcasting / McCaw Cellular, leading new services development. She serves as an advisor to media and technology companies and is chair of Compassionate Action Network (CAN). Cynthia has an MBA from Harvard Business School. She is based in the Seattle area.
About CSRHub
CSRHub offers one of the world's broadest and most consistent set of Environment, Social, and Governance (ESG) ratings, covering 20,000 companies. Its Big Data algorithm combines millions of data points on ESG performance from hundreds of sources, including leading ESG analyst raters, to produce consensus scores on all aspects of corporate social responsibility and sustainability. CSRHub ratings can be used to drive corporate, investor and consumer decisions. For more information, visit www.CSRHub.com. CSRHub is a B Corporation.