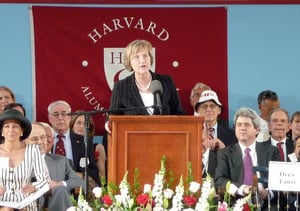 In a few months, you will retire from Harvard University and be free to direct your colossal talents wherever you want. I'm writing with an idea of how you could contribute to the climate change mitigation effort in a way no-one else can, and in the process, reverse what I think may be the only blemish on your otherwise outstanding record: forsaking the divestment movement.
You once said, "Climate change represents one of the world's most consequential challenges." I too am passionate about addressing climate change, writing commentary through the lens of business principles I learned at Harvard (MBA 1980). I used these principles to study divestment, and I came out in favor.
After five years of protests, arrests, lawsuits, sit-ins, blockades, petitions and verbal and written criticism, including my own commentary, you sent a junior investment manager to announce that Harvard's Endowment intends to "pause" on investing in "some" fossil fuels. Your action pacified the student protestors but it disappointed me.
I'm sure you were facing pressure from those against divestment, especially donors whose fortunes come from fossil fuels. I was astounded to read one alumni denier's claim that "…it is clear that CO2 causes little global warming" and another that "…you 'believers' feed the flames of needless CO2 panic just to blame conservatives for something."
Still, your decision galls me, even now, one year after Harvard's feeble divestment announcement, and I needed to understand it.
I decided to take a look at what else was going on in your life over the five years of the divestment struggle. The first thing I came across was this: Ric Burns' documentary Death and the Civil War, based on your book This Republic of Suffering, premiered in September, 2012, about the time the Divest Harvard movement had its first meeting. You were the film's source; you provided narration and on-screen interviews; you participated in the promotion tour.
So I watched the documentary. In the first fifteen minutes, I learned that over the four years of the Civil War, our nation lost 750,000 of its citizens, or 2.5%, or what in today's world what would equal seven million Americans, death that touched every person in the country, death that was in and of itself overwhelming and "greater in scale and power than any ever before imagined." A horrifying fact, vividly portrayed.
I couldn't let go of that statement, that in today's terms, deaths of 2.5% of the population would be seven million people. The New York Times described the film as "A Wave of Staggering Loss, in a Country Unprepared." And I wondered just how many, many more deaths would result from climate and environmental changes, over how many, many more years. Earlier this year, the World Health Organization estimated 12.6 million deaths a year worldwide are the result of degradation in air and water quality and chemical hazards. That number doesn't include deaths from rising sea levels, extreme weather, floods and droughts, dislocation, and so on. No one dares to project total mortality. That loss would be as incomprehensible as the human toll from the Civil War was to mid-19th century Americans.
In your 2015 speech at Tsinghua University in Bejing, China, you said, "The commitments of governments can be carried out only if every sector of society contributes. Industry, education, agriculture, business, finance, individual citizens—all are necessary participants in what must become an energy and environmental revolution." I found my way of contributing, writing pieces intended to convince business leaders that climate change adaptation is sensible and fiscally prudent.
You closed your speech with a quote from architect and urban planner Wu Liangyong: "My dream about the future is that we could live… in harmony with nature." I try to get that sentiment across in my more positive pieces, to advance a sustainable belief system in which we quit trying to vanquish nature and decide instead to corral her as our partner. That simple conviction could enable real solutions, and I'm continuing to advance that idea.
But I fear we're both speaking to the believers. We're missing the other piece, the piece that's relevant no matter how you think about nature, the mortality we're already seeing, those staggering losses from floods in Florida and wildfires in California to tainted water in Flint, in a country that can't believe it's happening even as we're beginning to feel overwhelmed. This may be the contribution you're meant to make, one that only you can bring to the environmental revolution: Help us be ready. Tell us how much worse our future will be, as we face staggering loss, if we're unprepared. It's not the past history but future history. Write another book; turn it into another movie and lay it out as you did in Death and the Civil War. Predict what new institutions we will need to be resilient. Show what major mutations to our society will be required. Remind us how we adapted during the Civil War. Tell us again that we can prepare for radical overhaul even amidst death that feels unbearable.
Or perhaps because of it.
Photo courtesy of Art Poskanzer.
---

Carol Pierson Holding is President and Founder, Holding Associates. Carol serves as Guest Blogger for CSRHub. Her firm has focused on the intersection of brand and social responsibility, working with Cisco Systems, Wilmington Trust, Bankrate.com, the US EPA, Yale University's School of Environmental Sciences, and various non-profits. Before founding Holding Associates, Carol worked in executive management positions at Siegel & Gale, McCann Erickson, and Citibank. She is a Board Member of AMREF (African Medical and Research Foundation). Carol received her AB from Smith College and her MBA from Harvard University.
CSRHub provides access to corporate social responsibility and sustainability ratings and rankings information on 17,000+ companies from 135 industries in 133 countries. Managers, researchers and activists use CSRHub to benchmark company performance, learn how stakeholders evaluate company CSR practices and seek ways to change the world.