By Lorinda R. Rowledge

What most captured my intellectual curiosity -- and feelings of hope -- in 2010 was the daunting challenge and tremendous opportunity inherent in engaging employees in and through sustainability and corporate social responsibility.
As part of a major EKOS project, I interviewed internal leaders at P&G, SAP, 3M, BT, Microsoft, Interface, Toyota, Eileen Fisher, and other companies about their approach, and reviewed hundreds of articles, research findings, webinars, and academic papers on employee engagement.
In the end, I was struck by a renewed -- and urgent -- sense of optimism, an emergent "reframed" worldview about the fundamental relationship between employees, companies, and society, and an exciting array of guidelines and best practices that can be customized to simultaneously drive business performance, engage employees, and accelerate the transformation to sustainable business.
Below I introduce some key "warp and weft threads." Over the next few months I will weave a tapestry with some colorful stories and in-depth analyses in a series of short articles.
One of our greatest business leadership challenges may be creating the organizational culture and social context that optimizes the collective intelligence and collaborative effort of the entire workforce -- both for organizational effectiveness and innovation in general, and for advancing transformation to environmentally, socially, and economically sustainable business.
Despite clear data showing employee engagement is a key factor in business performance -- with "high engagement" companies having higher operating income, revenue, earnings per share growth rate, retail sales, profit margins, customer retention, safety, and employee retention -- studies from major global research firms like Gallup, TowersWatson, and Blessing White find that only 20-30 percent of employees are actively engaged, meaning the vast majority of the workforce are coasting at best, actively disengaged or destructive at worst. Enlightened executives are increasingly seeing employee engagement as one of the most pressing strategic priorities. For example, a study by the Corporate Executive Board found employee engagement was one of the top two priorities of human resource leaders for 2010.
The good news is that this need for innovation in and increased commitment to engaging employees is occurring simultaneously with the requirement of sustainability/CSR implementation for much deeper integration and more intense innovation. The synergies between CSR and engagement set the stage for a step-leap improvement in response to both elements of this leadership challenge.
Proactively pursuing sustainability/CSR is a significant, largely untapped, solution for engaging employees' passion, initiative, and search for meaning and contribution in their work. Advancing employee engagement in and through sustainability can propel a powerful virtuous circle contributing to dramatically improved business performance and ever more legitimate sustainability breakthroughs.
Employee engagement drives improvements in business performance; sustainability/CSR drives increased employee engagement; engaging employees accelerates sustainability integration and innovation; sustainable business innovation drives both superior business performance and more positive impact in the world.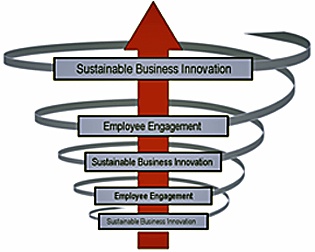 Both research and direct experience among the leaders underscores this synergy.
The latest Sirota and Hewitt research into employee engagement and sustainability indicates:
Employees satisfied with their company's sustainability performance (compared to those who are dissatisfied) are more highly engaged, feel their employers are more interested in their well-being, rate senior managers as having a stronger sense of direction, and feel their companies are more competitive in the marketplace (all factors central to employee engagement);
The vast majority of employees at companies with high engagement say their employer is socially and environmentally responsible.
Sustainability provides what most people in today's workforce, from baby boomers to Gen Ys, are looking for in their work: deeper meaning and a sense of purpose, opportunities to contribute and make a positive impact on the world, work in an organization with a good reputation in the community, and opportunities to develop knowledge and skills and advance their careers.
With the increasing consensus that sustainability/CSR is a business imperative, and that improvements and investments in sustainability/CSR yield cost savings, increased corporate reputation and brand value, new products and markets, and innovation, the majority of Fortune 500 companies as well as many smaller organizations now have corporate responsibility programs and reports. Most, however, are also a long way from reaping the benefits of engaging employees in sustainability.