JUNE 19TH AT 2:00-3:30PM ET: LEARN ABOUT:
SEC ESG INTERNAL CONTROL SYSTEM LIABILITIES FOR THE C-SUITE, BOARD, & EXTERNAL AUDITOR; THE MATERIALITY/SUSTAINABILITY EVOLUTION; GROUNDBREAKING DEVELOPMENTS AT UN GLOBAL COMPACT & SUSTAINABLE STOCK EXCHANGE INITIATIVE
For Public Companies, Boards, Asset Owners/Managers, Risk Managers, Analysts, Auditors, and Attorneys
New York, NY -- You are invited to attend the exciting Global ESG Regulatory Academy™
Spring 2013 Webinar Series live education--JUNE 19, 2013.
INFORMATION AND REGISTRATION: Click Here.
All Registrants, whether or not you attend the live Webinars, will receive the archived Webinar recordings and the Webinar presentation slides to view at your leisure.
The archived Webinar recordings and presentation slides are now available for the first 3 Webinars in the Spring 2013 Webinar Series. See the Registration page.
SPRING 2013 TOPICS include:
SEC ESG Reporting and the Widespread Noncompliance Problem: Root Causes, Consequences, Solutions, and Noncompliance liabilities for the C-Suite, Board, Auditor, and Asset Manager.
What You Need to Know About Internal Control Systems: SEC Requirements and Liabilities Triggered by ESG Issues for the C-Suite, the Board, the External Auditor, and the Asset Manager.
Common SEC ESG Disclosure Omissions, including toxic chemicals and hydraulic fracturing.
Current State of ESG Regulatory Reporting and ESG Voluntary Reporting around the world.
Latest reporting trends and new developments under the GRI Framework, including the G4 Guidelines.
The Materiality Evolution: A profile of recent developments and future challenges in materiality and sustainability.
Current ESG practices and perspectives of institutional investors and other market leaders.
First-ever instruction and practical guidance on how to integrate ESG regulatory and voluntary reporting, to streamline the process and cut compliance costs.
Groundbreaking developments at the UN Global Compact and the UN Sustainable Stock Exchange Initiative.
SEE PROGRAM AGENDA for full information.
SPRING 2013 SPEAKERS include:
Linda Lowson, Esq., CEO and Chief Counsel, Global ESG Regulatory Academy™.
Hank Boerner, Chairman, Governance & Accountability Institute.
Louis Coppola, SVP and Partner, Governance & Accountability Institute.
Brian Rice, Portfolio Manager and Sustainability Risk Management Team Leader, CalSTRS.
Sanford Lewis, Esq., Counsel, Investor Environmental Health Network.
Ted Grant, Director and Global Head of Research, AccountAbility.
Marcy Murninghan, PhD., Senior Research Fellow, Accountability.
Danielle Chesebrough, Manager of Investor Engagement, UN Global Compact.
3 REASONS WHY YOU SHOULD ATTEND:
Exclusive, Authoritative Source and Venue for this Invaluable Global ESG Regulatory and Reporting Education: This must-have knowledge and practical guidance is not available anywhere else. CSR Insight™ conducted an exhaustive, independent 5-year, US$5.5 million Global ESG Regulatory and Reporting Research Program on the major global ESG regulatory and voluntary reporting regimes, including comprehensive drill-down legal, regulatory, accounting, and capital market analyses. This is the future of financial reporting, affecting every global capital market participant.
Gain Essential Knowledge to Avoid Serious Liabilities: Whether you are a C-Suite, Board, Finance, Legal, Audit, Risk,Compliance, Strategy, Sustainability, Analyst, Researcher, Asset Manager, or Asset Owner executive, you need this knowledge and you need it now, to fulfill your job responsibilities and avoid serious liabilities and risks of which you may be unaware. The current widespread SEC corporate noncompliance on ESG issues creates significant liabilities for thousands of market participants. ESG regulatory reporting represents a whole new world of requirements and liabilities that is here to stay.
Receive Important Guidance at a Nominal Cost to Fulfill Internal and External Stakeholder Expectations: You will reap the benefits of our 5-year Global ESG Regulatory Research Program--quickly, conveniently, and at a nominal cost, including sophisticated technical analyses of both voluntary and regulatory ESG reporting frameworks, translated into simple laymen guidance on understanding, managing, and streamlining these two reporting worlds for maximum benefit and at lowest cost. ESG reporting is now a strategic imperative. Be proactive, not reactive, and you will reap the professional and financial rewards.
Webinars have limited capacity; early registration is recommended. Webinars feature a live Q&A session.
Our archived 2012 WEBINAR SERIES is now available for a limited time at a 50% discount: SEC ESG Compliance: Where the Rubber Meets the Road. This Webinar Series provides the first-ever in-depth explanation and analysis of SEC ESG Requirements, Liabilities, and Risks for the C-Suite, the Board, the External Auditor, and the Asset Manager. You will receive the archived Webinar recordings and the presentation slides. Don't miss it while it is still available!
FOR REGISTRATION, SPEAKER, AND SPONSOR QUERIES:
Contact Linda Lowson, Esq., HERE.
PLEASE JOIN US FOR THIS UNIQUE, EXCITING, MUST-HAVE EDUCATION!
Spring 2013 Speakers include: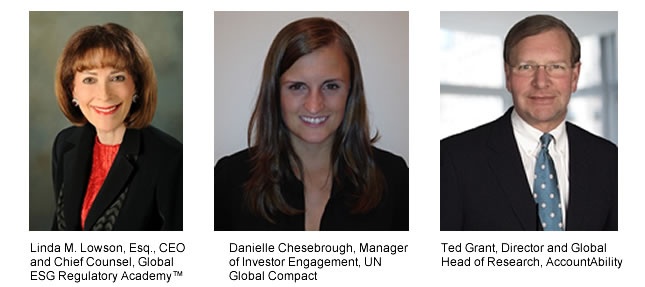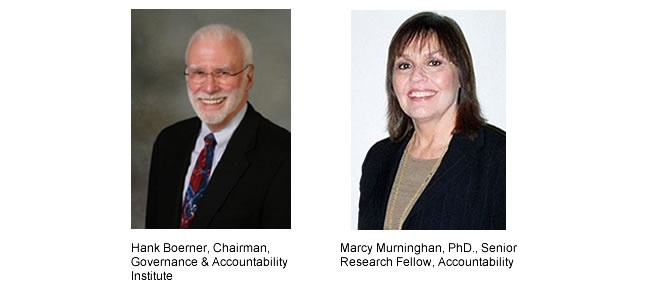 MEDIA PARTNERS: