By Cynthia Figge
Companies are under pressure from many stakeholders to report progress towards improved corporate social responsibility (CSR) performance. The 2010 Dodd-Frank Wall Street Reform and Consumer Protection Act has created a new source of pressure. The 2012 final rule from the U.S. Securities and Exchange Commission (SEC), requires most companies subject to SEC filing rules to report to the SEC by May 31, 2014, if any of their products produced in calendar year 2013 contain conflict minerals. In July, a federal judge ruled against a challenge to the new conflict mineral rules and upheld the law. Even companies headquartered outside of the United States, and those which do not report to the SEC, may be subjected to conflict minerals requests from customers that report to the SEC. The reporting requirements are intended to eliminate an important stream of funding for armed conflict in the Democratic Republic of Congo (DRC) and surrounding countries where much of the world's supply of conflict minerals is mined.
At CSRHub, we track over 270 sources of ratings data on how companies are performing on environmental, employee, community and governance issues. Our scrutiny includes how companies manage the conflict minerals in their supply chain. Conflict minerals include tin, tantalum, tungsten and gold (often referred to as 3TG). They are found in many products, including TVs, cell phones, electronics, and automotive products.
The CSRHub team recently examined ratings published by The Enough Project in 2012 that compared the conflict minerals performance of 24 companies in the electronics industry. Enough Project has been ranking these companies since 2010, as they have built systems for managing the new supply chain conflict minerals requirements. Their 2012 report showed that many companies have made significant improvements, with Intel receiving the top score of 60. Of course, there have been some notable laggards, such as Nintendo which received a score of 0.
CSRHub compared Enough Project's 24 ratings with the governance, environment, employee and community ratings for these same companies on CSRHub. We found a 35% correlation between the Conflict Minerals performance ratings and CSRHub's governance ratings and a 16% correlation between the Conflict Minerals ratings and CSRHub's employee ratings. There was almost no correlation between Enough Project's ratings and the CSRHub community or environment ratings.
Our data shows that companies that are good at governance are probably also good at managing their conflict mineral programs. Their Boards have become involved in the process, their leaders understand the ethical need to care about conflict mineral issues, and they have the necessary commitment to transparency and reporting infrastructure needed to correctly handle the SEC's new requirements. The connection to employee treatment may come from the fact that there are health, safety and training issues involved with improving conflict material supply chain management. Companies with good programs in this area may get a step ahead of those that have not invested as much.
These results are the latest of CSRHub's research efforts. Because we now have data on more than 8,000 companies in 104 countries, and because our data set includes input from more than 270 different sources of sustainability information, we are able to find broad connections between operating issues and CSR. For instance, in June CSRHub unveiled some research that proves the relationship between brand and CSR is even more profound than we thought — around the world, across industry type, and company size. We ran five years of our data against the data of Brand Finance, the global brand analyst headquartered in London. With our overlapping datasets, we analyzed over 1,000 companies, and for 2012 we got a 0.28 correlation between brand strength and CSR. Most astonishing to us was our analysis over time. When we looked back over five years of data, we found that Brand strength to CSR correlation has suddenly strengthened in the last year, doubling in 2012 over 2011. The relationship stayed relatively constant over the previous 4 years. Then in 2012 that correlation more than doubled.
We hope soon to reveal research that will show the relationship between reputation and CSR and between operating returns and CSR. We believe that connections such as these are necessary, if we want to make CSR and sustainability programs breakthrough platforms for building strategic advantage. We hope that the SEC's conflict minerals requirement will be a major factor in the right direction for the estimated 6,000 companies that will need to tighten up their supply chains.
---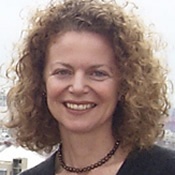 Cynthia Figge is a forerunner and thought leader in the corporate sustainability movement. She is COO and Cofounder of CSRHub, the world's largest database that aggregates and organizes data and knowledge on the social, environmental, and governance performance of 8,400 companies to provide sustainability ratings to the marketplace. In 1996 she co-founded EKOS International, one of the first consultancies integrating sustainability and corporate strategy. Prior to founding EKOS, she was an officer of LIN Broadcasting / McCaw Cellular, and led new businesses and services with Weyerhaeuser, New York Daily News; and with New Ventures. Cynthia is Board Director of the Compassionate Action Network International. Cynthia received her bachelor's degree in Economics and an MBA from the Harvard Business School. She lives in the Seattle area.
---