CSRHub Cofounder Cynthia Figge shared her thoughts at Founders' Friday sponsored by Women 2.0.
Relentless, Filled With Hope
I have been an entrepreneur since I could first conceive of business. I cofounded my college's Coop and with the consulting firm New Ventures, wrote the business plan for dozens of nonprofits starting for-profit subsidiaries. I was early-in to saving the world through business, which we now call "social impact" enterprise. I also worked for large companies starting new businesses. As an officer of LIN Broadcasting (owned by McCaw Cellular), I developed new mobile data services. When McCaw sold to AT&T, I felt it was time to be an entrepreneur, for good.
In 1996, I began a journey toward blending my two passions – startups and sustainability. I cofounded the consulting firm EKOS, a pioneer in helping companies integrate sustainability into their core business strategy. While that may sound a little "so what's new" today, 18 years ago most businesses did not embrace the notion that they needed to integrate human capital and natural capital with manufactured/financial capital into a single system. EKOS calls this "operating at the nexus." Then in 2007, I cofounded CSRHub, a sustainability big data platform. CSRHub has built the largest database of sustainability ratings and information in the world. We cover nearly 9,000 companies in 103 countries, and aim to be the go-to source on every company's social and environmental performance data.
I've grown in my understanding of being an entrepreneur, and will share eight insights.
First – do the work you are called to do. You must feel that somehow the world will fall apart if you do not apply your unique set of skills, passion, knowledge and intuition to the work you do. During this difficult economic time many of us are just grateful to have paid work . Can we afford to worry about hearing a call for our lives? I think the answer is we cannot afford to ignore finding our true selves and the vocation that we long for, especially in this liminal time. The earth and people on it are at a crossroad. The global population is predicted to grow to about 9 billion people. Social equity, climate change, the need for clean water and clean energy, and planetary survival offer us lots to do in answering our unique call.
Second – there is no such thing as immediate gratification. Even if you are doing engineering time studies for a thunderous piece of equipment in 100 degree+ heat in a tiny northern Michigan town, if you think you are on the train track to the work you are called to do, hang in there. Entrepreneurs build progress one hard day at a time, and it adds up.
Third – celebrate early and often. Despite the absence of immediate gratification you must celebrate whatever small and large victories come your way. You have a graduate student use your service and publish their PhD thesis using your data – celebrate. You raise $100,000 from an angel – celebrate. You raise it from a woman – celebrate enthusiastically. There will be plenty of bad days when the memory of the good moments tide you over.
Fourth – pursue partnerships with would-be competitors. This is like making love, not war. At every turn, figure out how to collaborate with the competition and develop partnerships wherever possible to leverage the collective work. Who I do business with is deeply guided by my intuition as well as analysis, and desire to expand the pie for all. We are one big system.
Fifth – own your ability to "see ahead". You would not be an entrepreneur if you didn't see ahead the trends and shifts that others cannot see. I realize that my gift is seeing ahead, coming back to tell the story, and continue co-creating our world. You will make bets on what you see way down the road and others will think you are crazy. You may be crazy, but stay the course, because you may be right. Think Elon Musk and Tesla.
Sixth – when the going gets rough, find like-minded angels. Angel investors can be angels – they support and guide you. Put time and effort into finding the right sources of capital to grow your business. And when you are wildly successful, join an angel network and give back.
Seventh – humility is the new swagger. Swagger is very important, but not the old school type. Thomas Friedman wrote a NY Times Op-Ed recently on how to get a job at Google. You need learning ability, emergent leadership, humility and ownership. He says you can be a zealot about your point of view, but when a new fact arises, you say 'Oh, well, that changes things; you're right.' "You need a big ego and small ego in the same person at the same time." As a Harvard Business School grad with years of being an entrepreneur, I love this advice. BTW, women are really good at this!
Eighth - hope is an entrepreneur's asset. I believe hope and dreams are inextricably linked. There's some combination of belief, knowledge, foolishness, and persistence that leads one to radical hope. Hope is not optimism. Optimism is moving toward a positive outcome in ways we can see. Hope is the fulfillment now, hope is realized by making the life giving choices - every day we can do this. Hope is not measured by an endpoint. We are moving into hope every day as we live out our call and dreams. There's something in the dream - the ambiguity, uncertainty, unknown outcome, giving something you've imagined some real form in the world. There's no promise of success. But it is the work of the entrepreneur to be relentless, filled with hope.
Best wishes on your path of being an entrepreneur.
---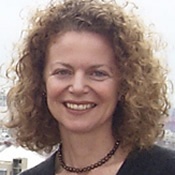 Cynthia Figge is a forerunner and thought leader in the corporate sustainability movement. She is COO and Cofounder of CSRHub, the world's largest database that aggregates and organizes data and knowledge on the social, environmental, and governance performance of 8,900 companies to provide sustainability ratings to the marketplace. In 1996 she co-founded EKOS International, one of the first consultancies integrating sustainability and corporate strategy. Prior to founding EKOS, she was an officer of LIN Broadcasting / McCaw Cellular, and led new businesses and services with Weyerhaeuser, New York Daily News; and with New Ventures. Cynthia is Board Director of the Compassionate Action Network International. Cynthia received her bachelor's degree in Economics and an MBA from the Harvard Business School. She lives in the Seattle area.
CSRHub provides access to corporate social responsibility and sustainability ratings and information on 8,900 companies from 135 industries in 103 countries. By aggregating and normalizing the information from 300+ data sources, CSRHub has created a broad, consistent rating system and a searchable database that links millions of rating elements back to their source. Managers, researchers and activists use CSRHub to benchmark company performance, learn how stakeholders evaluate company CSR practices and seek ways to change the world.