The Partnership Will Use CSRHub's Data To Integrate ESG Into Supply Chain Analysis
New York - August 25, 2020 – CSRHub, a leader in consensus ESG (Environment, Social, and Governance) ratings and information, announced today a partnership with Craft, the enterprise intelligence provider, to integrate data from CSRHub into Craft's offerings. This integration will help supply chain managers build a 360-degree view of supplier ESG risk.
"The case for using corporate social responsibility measures as a leading indicator of company performance, and social and environmental impact has never been stronger. It is quickly becoming a key consideration in managing risk, driving customer satisfaction, and building ethical and resilient supply chains among our customers, said Ilya Levtov, founder and CEO of Craft. "We're delighted to be working with CSRHub to incorporate its ESG ratings into Craft's 360 degree view of every supplier that can be monitored on our platform."
Recent climate, health, and social challenges have disrupted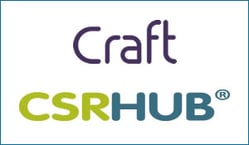 supply chains. Both companies see this partnership as a timely response to these challenges that could decrease supply chain risk and increase supply chain resilience.
With ratings on 20,000 companies, CSRHub is a leader in consensus ESG ratings. "We expect to benefit from Craft's strong customer relationships and its experience in supply chain management" said Cynthia Figge, CEO and Co-founder of CSRHub. "We are excited to bring high-value ESG data to Craft's customers and enjoy being aligned with a company that shares our values."
About CSRHub
CSRHub offers one of the world's broadest and most consistent set of Environment, Social, and Governance (ESG) ratings, covering 20,000 companies. Its Big Data algorithm combines millions of data points on ESG performance from hundreds of sources, including leading ESG analyst raters, to produce consensus scores on all aspects of corporate social responsibility and sustainability. CSRHub ratings can be used to drive corporate, investor and consumer decisions. For more information, visit www.CSRHub.com. CSRHub is a B Corporation.
About Craft
Craft is an enterprise intelligence company helping organizations make data-informed business decisions by delivering comprehensive, validated and always up-to-date commercial data, analytics, and actionable insights. Headquartered in San Francisco, Craft works globally with Fortune 500 companies in aerospace & defense, banking, pharmaceutical and retail. For more information, visit enterprise.craft.co or connect with us on LinkedIn.
CSRHub Media Contact:
Ruth Edwards
ruth@csrhub.com

Craft Media Contact:
Zuzanna Wilson
zuzanna@craft.co
+ 415-425-8926