CSRHub Co-Founder and COO, Cynthia Figge, will be a panelist at Boston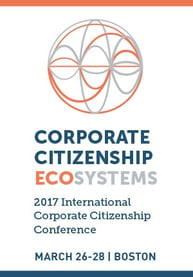 College's 2017 International Corporate Citizenship Conference. This event will be held on March 26-28th in Boston, MA. Cynthia will be speaking at the Session focused on Evolving Reporting Landscape.
The evolving reporting landscape: Using the data you disclose
The number of companies engaging in sustainability reporting is at an all-time high—and growing. Now, the conversation no longer centers on whether companies should report but rather how. In this session, learn more about the trends and topics that are shaping the future of reporting, and what you can do now to make sure that you are leveraging the process in such a way that creates a better business—and a better world.
Breakout Session: Evolving Reporting Landscape
Tuesday, March 28, 2017
Moderator: Dan Bross, BCCCC Executive Forum emeritus
Panelists: Dana Beckman, Director Corporate Affairs, Alliance Data
Cynthia Figge, COO and Cofounder, CSRHub
Evan Harvey, Director of Corporate Responsibility, NASDAQ
Julia Wilson, Director, Global Responsibility and Sustainability, Nielsen
To see more of our partners' training opportunities or where Cynthia Figge or Bahar Gidwani will be speaking next, please click here.