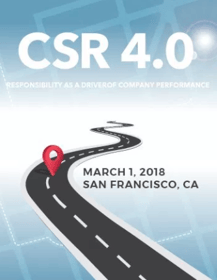 CSRHub CEO and Co-Founder Cynthia Figge will be moderating a panel at Skytop Strategies CSR 4.0 conference, in San Francisco on March 1st. The panel will be discussing The Power of Disruption: How CSR Can Affect Company Brand Value.
CSR 4.0 presents the evolution of corporate social responsibility from its initial shared value paradigm to its current form. The program will track the growth of CSR as a sector, examine the multi-dimensional ways that CSR programs are implemented in corporations today, and present cutting-edge ideas that will shape the future of CSR as an industry.
This full day summit will examine the alignment of business and social purpose through a mix of keynote talks, moderated panels, on-stage interviews, debates and networking time allowing for greater interaction and a deeper dive into specialized topics of interest.
Thursday, March 1st – San Francisco, CA
The Power of Disruption: How CSR Can Affect Company Brand Value
Barbara Koontz, Senior Vice President Sales & Customer Experience, Curran & Connors
Cynthia Figge, Chief Executive Officer and Co-Founder, CSRHub
For the full program, click here.
Affiliates of CSRHub receive a 25% discount off registration using code 25CSR3818
As the corporate landscape evolves around global, social, environmental and economic change, Skytop Strategies works to facilitate discussion with executive-level corporate leaders, institution investors, stakeholders, reputable industry experts, and authoritative NGO/government agencies around corporate strategy.
______________________________________________________________________________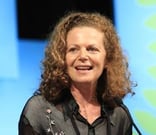 Cynthia Figge is a forerunner and thought leader in the corporate sustainability movement who co-founded EKOS International in 1996, one of the first consultancies integrating sustainability and corporate strategy. Cynthia is CEO and Cofounder of CSRHub. Cynthia has worked with major organizations including BNSF, Boeing, Coca-Cola, Dow Jones, and REI to help craft sustainability strategy integrated with business. She was an Officer of LIN Broadcasting/McCaw Cellular leading new services development, and started a new "Greenfield" mill with Weyerhaeuser. She serves as Advisor to media and technology companies, and is Chair of the Board of Compassionate Action Network. Cynthia has an MBA from Harvard Business School. Cynthia is based in the Seattle area.
CSRHub provides access to the world's largest corporate social responsibility and sustainability ratings and information. It covers over 17,500 companies from 135 industries in 133 countries. By aggregating and normalizing the information from 556 data sources, CSRHub has created a broad, consistent rating system and a searchable database that links millions of rating elements back to their source. Managers, researchers, API partners and activists use CSRHub to benchmark company performance, learn how stakeholders evaluate company CSR practices, and seek ways to improve corporate sustainability performance.