Skytop Strategies will launch its fifth annual CSR Summit hosted in partnership with Nasdaq at their Entrepreneurial Center on April 17th in San Francisco.
CSRHub's CEO and co-founder Cynthia Figge will be giving a topic briefing on Data Obsessed: Does Data Really Drive Investment into CSR?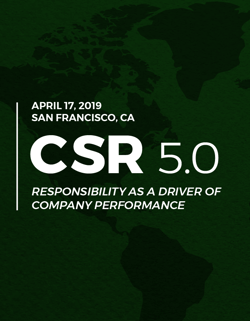 CSR 5.0 presents the evolution of corporate social responsibility from its initial shared value paradigm to its current form. The program will track the growth of CSR as a sector, examine the multi-dimensional ways that CSR programs are implemented in corporations today, and present cutting-edge ideas that will shape the future of CSR as an industry.
For the full program, click here.
Register using coupon code CSRHUB2019 to receive 35% off your registration: https://skytopstrategies.com/product/csr-5-0-conference-pass/
As a bonus, you may bring a colleague, peer, or client if you register before April 10th.
---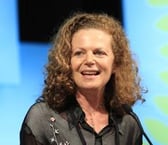 Cynthia Figge is a forerunner and thought leader in the corporate sustainability movement who co-founded EKOS International in 1996, one of the first consultancies integrating sustainability and corporate strategy. Cynthia is CEO and Cofounder of CSRHub. Cynthia has worked with major organizations including BNSF, Boeing, Coca-Cola, Dow Jones, and REI to help craft sustainability strategy integrated with business. She was an Officer of LIN Broadcasting/McCaw Cellular leading new services development, and started a new "Greenfield" mill with Weyerhaeuser. She serves as Advisor to media and technology companies, and served as President of the Board of Sustainable Seattle. Cynthia has an MBA from Harvard Business School. Cynthia is based in the Seattle area.
CSRHub is the largest ESG and sustainability rating and information platform globally. We aggregate 180M data points from 615+ data sources including 12 leading ESG analyst databases. Our patented algorithm aggregates, normalizes, and weights data to rate 18,000 companies in 132 countries across 136 industries. We track 97% of world market capitalization. We cover 12 subcategories of ratings and rankings across the categories of environment, employees, community and governance. We show underlying data sources that contribute to each subcategory's ratings. CSRHub metrics are a consensus view (any 2 sources may have about a 30% correlation so we make sense of the disparate data). We tag companies for their involvement in 17 Special Issues. We provide Macro-enabled Excel dashboard templates, customizable dashboards, and an API. Our big data technology enables 85% full coverage of data across our rated companies and robust analyses. We provide historical ratings back to 2008.