CSRHub Co-Founder and CEO, Cynthia Figge, will be speaking at Sustainable Brands New Metrics '17 Conference, in Philadelphia, Pennsylvania, held on November 13-15, 2017. Cynthia will speak at the plenary on Nov. 14th on "From Disclosure to Performance: Building the Virtuous Loop". Cynthia will present new insights between ESG disclosure and perceived CSR performance, and highlight CSRHub's findings on 7,000+ equities that have both disclosure and performance metrics, representing more than 90% of world market capitalization.
This 3-day Sustainable Brands event will showcase the macro, corporate and investor landscapes to help businesses succeed. The conference will also feature deep dive discussions and case studies led by remarkable thought leaders and analysts working to create smarter, more accurate and more inclusive business metrics that create value for all stakeholders.
Tuesday, November 14th
From Disclosure to Performance: Building the Virtuous Loop
Cynthia Figge, Co-Founder and CEO; CSRHub
Friends of CSRHub will receive a 20% discount on registration!
Please register here with code "nw-nm17-SPEAK"
More Conference Info:
Leading brands and businesses are continuing to learn from remarkable thought leaders working to create a path toward smarter, more accurate and more inclusive business metrics that create value for all stakeholders. New Metrics '17 will dive deeper through looking at 5 key tracks:
Strategy and Operations
Finance and Investor Relations
Marketing and Communications
HR and Employee Engagement
Supply Chain Innovation
Sustainable Brands:
Sustainable Brands is home for the global community of business innovators who are shaping the future of commerce worldwide. Since 2006, their goal has been to inspire, engage and equip today's business and brand leaders to prosper for the near and long term by leading the way to a sustainably abundant future.
---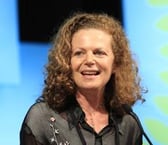 Cynthia Figge is a forerunner and thought leader in the corporate sustainability movement who co-founded EKOS International in 1996, one of the first consultancies integrating sustainability and corporate strategy. Cynthia is CEO and Cofounder of CSRHub. Cynthia has worked with major organizations including BNSF, Boeing, Coca-Cola, Dow Jones, and REI to help craft sustainability strategy integrated with business. She was an Officer of LIN Broadcasting/McCaw Cellular leading new services development, and started a new "Greenfield" mill with Weyerhaeuser. She serves as Advisor to media and technology companies, and served as President of the Board of Sustainable Seattle. Cynthia has an MBA from Harvard Business School. Cynthia is based in the Seattle area.
CSRHub provides access to the world's largest corporate social responsibility and sustainability ratings and information. It covers over 17,400 companies from 135 industries in 133 countries. By aggregating and normalizing the information from 535 data sources, CSRHub has created a broad, consistent rating system and a searchable database that links millions of rating elements back to their source. Managers, researchers and activists use CSRHub to benchmark company performance, learn how stakeholders evaluate company CSR practices, and seek ways to improve corporate sustainability performance.