Harvard Business Review (HBR) has published its annual globalranking of the 100 best-performing CEOs, with Pablo Isla of the Spanish fashion retail giant Inditex topping the list for the second year in a row. Following behind Isla in the #2 and #3 spots are Jensen Huang of NVIDIA and Bernard Arnault of LVMH. They're joined by newcomers to the top 5 this year, François-Henri Pinault of Kering (#4) and Elmar Degenhart of the German automaker Continental (#5). Salesforce CEO Marc Benioff has climbed to the #6 spot, up from #12 in 2017.
The list, which appears in HBR's November-December issue, is different from other leader rankings in that it measures performance for the entire length of a chief executive's tenure. "In a business environment that often seems obsessed with today's stock price and this quarter's numbers, our ranking takes the long view," said HBR Editor in Chief Adi Ignatius.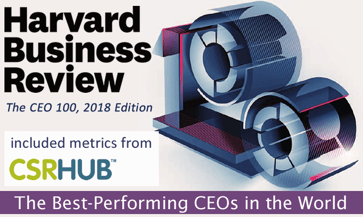 Harvard Business Review's article stated, "To compile the list, HBR looked at CEOs of the S&P Global 1200 as of April 30, 2018, and calculated overall shareholder return and increase in market capitalization over their entire tenure. It also factored in ratings of corporate environmental, social, and governance (ESG) performance provided by two firms, CSRHub and Sustainalytics. (Read more about the methodology.)"
The HBR article stated "Among the biggest shifts companies face right now is in the global political environment….Whether and when CEOs speak out doesn't factor directly into our rankings—but such activism may be captured indirectly in ESG scores, according to the experts at CSRHub and Sustainalytics, the firms that help us crunch the data. For instance, ESG ratings do account for company lobbying expenditures, the degree of disclosure on issues such as carbon use, and the presence of a sustainability officer at the company's top level, among other measures. A CEO's political statements (or lack thereof) may also show up in data gleaned from employee review sites such as Glassdoor. The phrase "CEO activism" connotes proactive behavior by leaders—but more and more often, dealing with political realities is just another facet of a multifaceted job."
"We are honored to have CSRHub ESG (environment, social, governance) metrics included in the methodology to determine the HBR Ranking of the World's Best-Performing CEOs for the third year in a row" said Cynthia Figge, CSRHub CEO and Co-founder.
See the full report available in Harvard Business Review Magazine, found here.
To learn more about CSRHub, our ESG/CSR metrics or how you can improve your ESG scores, contact us here.
---
CSRHub is the largest ESG and sustainability rating and information platform globally. We aggregate 180M data points from 550 data sources including 12 leading ESG analyst databases. Our big data patented algorithm aggregates, normalizes, and weights data to rate 18,000 companies in 132 countries across 136 industries. We track 97% of world market capitalization. We cover 12 subcategories of ratings and rankings across the categories of environment, employees, community and governance. We show underlying data sources that contribute to each subcategory's ratings. CSRHub metrics are a consensus view (any 2 sources may have about a 30% correlation so we make sense of the disparate data). We tag companies for their involvement in 17 Special Issues. We provide Macro-enabled Excel dashboard templates, customizable dashboards, and an API. Our big data technology enables 85% full coverage of data across our rated companies and robust analyses. We provide historical ratings back to 2008.