Bahar Gidwani, Cofounder and CEO of CSRHub, is a founding member of The Alliance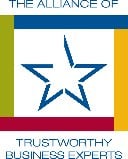 of Trustworthy Business Experts (ATBE). Trust Across America (TAA) (www.trustacrossamerica.com) and its ambassadors are launching the Campaign for Trust™.
In the fourth quarter of 2012 Trust Across America created ATBE to collaborate in advancing the cause of trustworthy business through the creation of trust tools and communications outreach. Over 100 global thought leaders from Fortune 500 companies; leading academic institutions; global media and consulting have joined since the mid-October launch.
Kicking off the campaign will be the January 14 announcement of Trust Across America's 3rd annual Top Thought Leaders in Trustworthy Business.
Trust Across America, through its new trust alliance, hopes to develop the requisite tools to enhance cultures of trust, and encourages those interested in furthering the cause of trustworthy business to join the alliance. trustacrossamerica.com/cgi-bin/alliance.cgi
CSRHub is a leading source of corporate social responsibility ratings and information, creating direct comparisons of CSR and Sustainability performance among competitors and across supply chains, industries, and regions. CSRHub is the first to aggregate environmental, employee, community and governance data — 20 million elements from 185+ sources covering 6,500 companies across 135 industries and 70 countries — into an open, integrated, accessible database platform.