Join Women 2.0 in March for Founder Friday Seattle! Founder Friday Seattle is on Friday, March 7th from 6:00 pm - 9:00 pm. - Hosted by Office Nomads.
Founder Friday is a Women 2.0 networking event to promote the creation of new networks among aspiring entrepreneurs, current entrepreneurs and investors in innovative cities around the world. Both women and men are invited to attend Founder Friday.
Speaking at this month's Founder Friday Seattle are:
Cynthia Figge, COO and Co-founder, CSRHub
Lori Salow Marshall, Chairman and CEO, BYNDL
NOTE: Host introductions begin at 7:00 pm followed by a short talk by each speaker. Hear the talk, be inspired, learn something new and be a part of the burgeoning tech community in the Seattle area.
You can follow the event on Twitter at @FounderFriday and @women2
The hashtag for this event is #ffsea
Please note that you must be 21 or older to attend Women 2.0 Founder Friday. Tickets are non-transferable & non-refundable.
Have questions about Women 2.0 Founder Friday Seattle? Contact Women 2.0
Register here.
---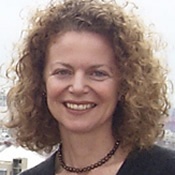 Cynthia Figge is a forerunner and thought leader in the corporate sustainability movement. She is COO and Cofounder of CSRHub, the world's largest database that aggregates and organizes data and knowledge on the social, environmental, and governance performance of 8,900 companies to provide sustainability ratings to the marketplace. In 1996 she co-founded EKOS International, one of the first consultancies integrating sustainability and corporate strategy. Prior to founding EKOS, she was an officer of LIN Broadcasting / McCaw Cellular, and led new businesses and services with Weyerhaeuser, New York Daily News; and with New Ventures. Cynthia is Board Director of the Compassionate Action Network International. Cynthia received her bachelor's degree in Economics and an MBA from the Harvard Business School. She lives in the Seattle area.
CSRHub provides access to corporate social responsibility and sustainability ratings and information on 8,900 companies from 135 industries in 103 countries. By aggregating and normalizing the information from 300+ data sources, CSRHub has created a broad, consistent rating system and a searchable database that links millions of rating elements back to their source. Managers, researchers and activists use CSRHub to benchmark company performance, learn how stakeholders evaluate company CSR practices and seek ways to change the world.