Join us as at Paradise Point in San Diego, CA, June 1-4 where brand, sustainability & design leaders find inspiration, tools and partnerships to drive business success and positive impact.
Our Cofounder and COO Cynthia Figge will speak on June 2. Cynthia will present "More Proof That Sustainability Drives Operating Performance."
We look forward to seeing CSRHub members at SB'15!
For more information and to register,click here.

---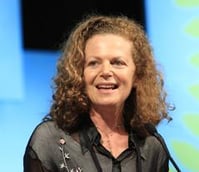 Cynthia Figge is a forerunner and thought leader in the corporate sustainability movement. She is COO and Cofounder of CSRHub, the world's largest database that aggregates and organizes data and knowledge on the social, environmental, and governance performance of 14,000+ companies to provide sustainability ratings to the marketplace. In 1996 she co-founded EKOS International, one of the first consultancies integrating sustainability and corporate strategy. Prior to founding EKOS, she was an officer of LIN Broadcasting / McCaw Cellular, and led new businesses and services with Weyerhaeuser, New York Daily News; and with New Ventures. Cynthia is Board Director of the Compassionate Action Network International. Cynthia received her bachelor's degree in Economics and an MBA from the Harvard Business School. She lives in the Seattle area.
CSRHub provides access to corporate social responsibility and sustainability ratings and information on 14,400+ companies from 135 industries in 127 countries. Managers, researchers and activists use CSRHub to benchmark company performance, learn how stakeholders evaluate company CSR practices and seek ways to change the world.