CSRHub is pleased to announce it has formed a partnership with iCompli Sustainability, to offer a new kind of sustainability report – the ESG Metrics Brief – that brings together qualitative and quantitative data for the corporate sustainability marketplace.
The ESG Metrics Brief provides concise, yet comprehensive feedback on corporate sustainability performance. The unique benchmarking report delivers quick, easily digestible information on over 120 environmental, social and governance indicators. The ESG Metrics Brief will help corporate sustainability, procurement and investor relations officers assess performance, identify potential brand and reputation vulnerabilities, and make more informed decisions.
Using the ESG Metrics Brief, stakeholders can see how a company compares with its peers on the CSRHub rating system as well as other leading public and private sustainability scoring frameworks, including Bloomberg and CDP. The report examines a company's current performance on key indicators such as GHG, water, waste, injury rates, women in management, a company's progress over time, and industry averages.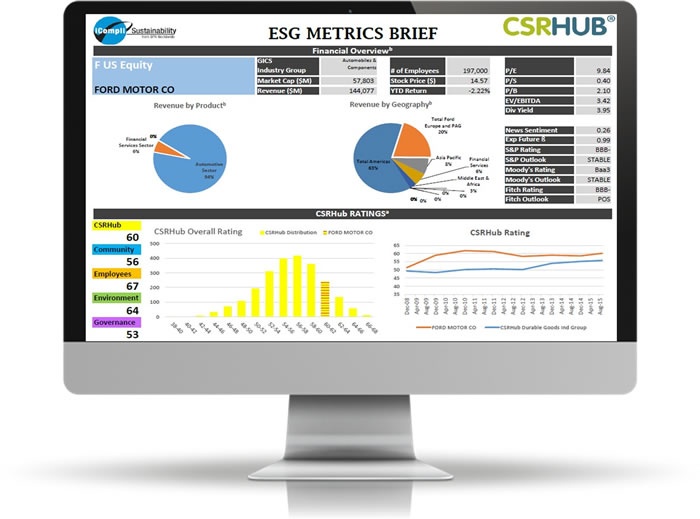 About CSRHub
CSRHub® provides access to the world's largest corporate social responsibility and sustainability ratings and information service, covering 15,000+ companies in 132 countries. By aggregating and normalizing the information from 400+ data sources, CSRHub has created a broad, consistent rating system and a searchable database that links millions of rating elements back to their source. Managers, professionals, and academics use CSRHub to benchmark company and supply chain performance, learn how stakeholders evaluate company CSR practices, and seek ways to improve corporate sustainability performance. Subscribers can access 12 indicators and millions of detailed data points on employee, environment, community, and governance performance. CSRHub is a B Corporation. For more information about CSRHub, visit www.csrhub.com or contact sales@csrhub.com.
About iCompli Sustainability
iCompli Sustainability (iCompli) is a division of BPA Worldwide, the world's largest media audit company. A not-for-profit organization established in 1931, BPA's audit services have expanded to include external assurance of government and industry standards and independent verification of companies' sustainability claims. iCompli provides a research-driven systems approach to help organizations make defensible decisions about their sustainability initiatives. We offer diagnostic and assessment services, data verification and report assurance, and third-party certification to industry sustainability standards. For more information about iCompli, visit www.icomplisustainability.com.