CSRHub Co-Founder and COO, Cynthia Figge, will be a panelist at Boston College's 2016 International Corporate Citizenship Conference. This event will be held on March 20-22
nd
in Atlanta, GA. Cynthia will be speaking at the Session focused on Ratings, Rankings and Data Analytics. Cynthia will be joined by Eric Fernald from MSCI and Susanne Katus from eRevalue, in a session moderated by Stephen Donofrio, BC Center for Corporate Citizenship, to discuss the landscape of how companies are measured. The audience will receive tips to shape their companies' approach to the complex world of ratings and rankings.
CSRHub is a Benchmarking Sponsor of the 2016 International Corporate Citizenship Conference. We look forward to joining experts from around the world in sharing the innovative new programs, partnerships, and solutions that are driving positive change across the globe.
For the agenda of this event and more information, please click here.
---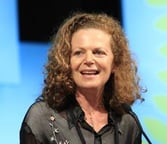 Cynthia Figge is a forerunner and thought leader in the corporate sustainability movement who co-founded EKOS International in 1996, one of the first consultancies integrating sustainability and corporate strategy. Cynthia is COO and Cofounder of CSRHub. Cynthia has worked with major organizations including BNSF, Boeing, Coca-Cola, Dow Jones, and REI to help craft sustainability strategy integrated with business. She was an Officer of LIN Broadcasting/McCaw Cellular leading new services development, and started a new "Greenfield" mill with Weyerhaeuser. She serves as Advisor to media and technology companies, and served as President of the Board of Sustainable Seattle. Cynthia has an MBA from Harvard Business School. Cynthia is based in the Seattle area.