By Cynthia Figge
This week I have the pleasure of attending Boston College's 2016 International Corporate Citizenship conference. Our friends at BCCCC have asked me to speak about ratings, rankings and data analytics. I look forward to meeting with many of the leaders in the CSR movement.
CSRHub is a Benchmark Sponsor of this year's event, and attendees will receive a complimentary CSRHub report covering the company of their choice. Most have requested reports on their own companies, but some have asked about other companies that may have a best practice or two they'd like to learn. We ran a quick average of the overall rankings for 88 companies that were requested from our system.
We expect this group to outperform the more than 15,500 companies we rate as many of the requests are for member companies of BCCCC and therefore committed to improving their corporate citizenship. The table below shows that while the average overall rating for this group is slightly above average at 55.4%, the highest category ranking is Employees. With about 600 companies in attendance, we will rerun this analysis as we produce more company reports.

The table also illustrates five companies (all BCCCC members) requested with high scores within the CSRHub system. We have enjoyed this opportunity to share our metrics with the BCCCC community. Our mission is to encourage transparent access to sustainability information and to generate feedback and change from this data. I'm looking forward to several days of learning from companies that are leading the way, and from others who are working hard to improve their companies' performance.
---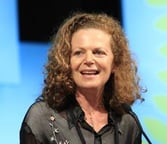 Cynthia Figge is a forerunner and thought leader in the corporate sustainability movement who co-founded EKOS International in 1996, one of the first consultancies integrating sustainability and corporate strategy. Cynthia is COO and Cofounder of CSRHub. Cynthia has worked with major organizations including BNSF, Boeing, Coca-Cola, Dow Jones, and REI to help craft sustainability strategy integrated with business. She was an Officer of LIN Broadcasting/McCaw Cellular leading new services development, and started a new "Greenfield" mill with Weyerhaeuser. She serves as Advisor to media and technology companies, and served as President of the Board of Sustainable Seattle. Cynthia has an MBA from Harvard Business School. Cynthia is based in the Seattle area.