CSRHub COO and Cofounder Cynthia Figge will be speaking at the Annual Impact Conference at Sustainatopia on Monday, May 2nd in San Francisco, California. The session will discuss Driving Impact & Robust Returns Through Renewables.

The Impact Conference at Sustainatopia 2015 will be one of the best opportunities to learn, network, and connect with hundreds of top global impact leaders and organizations.
Monday, May 2nd 2:30 PM – 3:30 PM
Driving Impact & Robust Returns Through Renewables
Chris Warren, Clean Energy Advisors
Erik Melang, Clean Energy Advisors
Cynthia Figge, CSRHub
The Impact Conference is part of Sustainatopia, one of the largest events in the world for financial, social and environmental sustainability. For more information on the event, click here.
---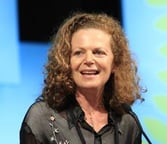 Cynthia Figge is a forerunner and thought leader in the corporate sustainability movement who co-founded EKOS International in 1996, one of the first consultancies integrating sustainability and corporate strategy. Cynthia is COO and Cofounder of CSRHub. Cynthia has worked with major organizations including BNSF, Boeing, Coca-Cola, Dow Jones, and REI to help craft sustainability strategy integrated with business. She was an Officer of LIN Broadcasting/McCaw Cellular leading new services development, and started a new "Greenfield" mill with Weyerhaeuser. She serves as Advisor to media and technology companies, and served as President of the Board of Sustainable Seattle. Cynthia has an MBA from Harvard Business School. Cynthia is based in the Seattle area.