CSRHub's COO and Co-Founder, Cynthia Figge, will be a speaker at the 2015 Outsell's Signature Event at the legendary Pinehurst Resort, Home of the 2014 US Open. The invitation-only annual event brings together leaders and decision-makers from across the global media and information industry. This year's program will focus on the Success in the Digital Machine Age by providing executives with living examples and case studies on how to thrive in an always-on world, and lead their organizations and teams. Cynthia will be giving a Sprint talk focusing on "Using Big Data to Build Value-Added Solutions with the Power to Disintermediate" on October 2nd, 2015.
To gain more information on this please click here.
---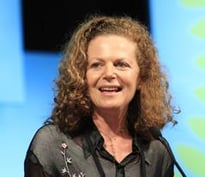 Cynthia Figge is a forerunner and thought leader in the corporate sustainability movement who co-founded EKOS International in 1996, one of the first consultancies integrating sustainability and corporate strategy. Cynthia has worked with major organizations including BNSF, Boeing, Coca-Cola, Dow Jones, and REI to help craft sustainability strategy integrated with business. She was an Officer of LIN Broadcasting/McCaw Cellular leading new services development, and started a new "Greenfield" mill with Weyerhaeuser. She serves as Advisor to media and technology companies, and served as President of the Board of Sustainable Seattle. Cynthia has an MBA from Harvard Business School. Cynthia is based in the Seattle area. CSRHub provides access to corporate social responsibility and sustainability ratings and information on 15,140+ companies from 135 industries in 132 countries. Managers, researchers and activists use CSRHub to benchmark company performance, learn how stakeholders evaluate company CSR practices and seek ways to change the world.